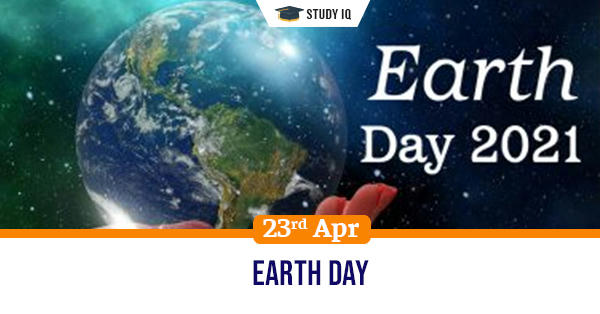 Earth Day
Date: 23 April 2021
Tags: Reports & Indices
Issue
Earth Day is an event celebrated across the globe on April 22 to support protection of environment.
Background
The 2021 edition of the Earth Day is the 51st anniversary of celebrations. The theme this year is 'Restore Our Earth'.
Details
The United Nations dedicated April 22nd to be International Mother Earth Day since the year 2009.

Earth Day was celebrated for the first time in 1970 when about 20 million people protested against environment degradation caused by the Santa Barbara oil spill.

The Paris deal of 2015 was signed on the Earth Day in 2016. The deal brought together countries for setting a common target to reduce global greenhouse emission.

The Mother Earth Day is a celebrated to remind humans the role of environment in providing us with life and sustenance.
Theme 2021
This year's theme is based on emerging green technologies, natural processes, and innovative thinking to restore the world's ecosystems.

Major climate related events are taking place on this day. This includes Leaders' Summit on Climate which hosted by the United States and the Exponential Climate Action Summit to finance zero emissions.