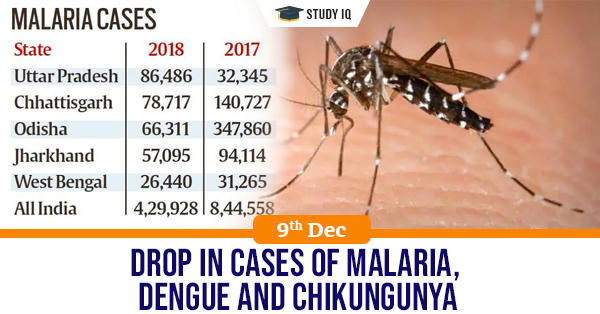 Drop in cases of Malaria, Dengue and Chikungunya
Date: 09 December 2019
Tags: Reports & Indices
Issue
In 2018, India recorded 4,29,928 cases of malaria, 1,01,192 cases of dengue, and 57,813 clinically suspected cases of chikungunya but the number of cases was less than in 2017.
Background
The Health Ministry noted that dengue and chikungunya are outbreak-prone diseases, and therefore their numbers vary from state to state and from time to time. A year-on-year increase in the number of cases for a particular state depends on when an outbreak happens,
Details
The highest number of malaria cases in 2018 was recorded in Uttar Pradesh, at 86,486, followed by Chhattisgarh , Odisha , Jharkhand and West Bengal. Except Uttar Pradesh, all these states registered a lower number of cases than in 2017.

For dengue, Punjab recorded the highest number of cases in 2018, at 14,890, down from 15,398 cases in 2017. It was followed by Maharashtra , Rajasthan , Gujarat and Delhi. While the number of cases decreased in Punjab and Delhi between 2017 and 2018, it rose in each of the other three states.

For clinically suspected cases of chikungunya, the highest count was 20,411 in Karnataka, down from 32,831 cases in 2017. Karnataka is followed by Gujarat, Maharashtra , Jharkhand and Madhya Pradesh.
Malaria
Malaria is a mosquito-borne infectious disease that affects humans and other animals. Malaria causes symptoms that typically include fever, tiredness, vomiting, and headaches. In severe cases it can cause yellow skin, seizures, coma, or death

A disease caused by a plasmodium parasite, transmitted by the bite of infected mosquitoes.
Dengue
It is a mosquito-borne viral disease occurring in tropical and subtropical areas. Those who become infected with the virus a second time are at a significantly greater risk of developing severe disease.Symptoms include high fever, headache, rash and muscle and joint pain.

In severe cases there is serious bleeding and shock, which can be life threatening. The dengue virus (DEN) comprises four distinct serotypes (DEN-1, DEN-2, DEN-3 and DEN-4) which belong to the genus Flavivirus, family Flaviviridae.
Chikungunya
Chikungunya is a viral disease transmitted to humans by infected mosquitoes. It causes fever and severe joint pain. Other symptoms include muscle pain, headache, nausea, fatigue and rash.

Chikungunya is transmitted to humans by infected mosquitoes – including Aedes aegypti and Aedes albopictus.