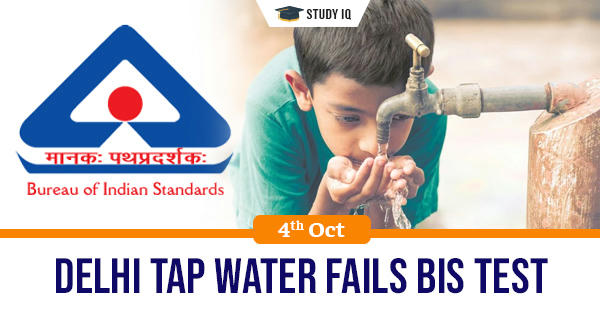 Delhi tap water fails BIS test
Date: 04 October 2019
Tags: Reports & Indices
Issue
Tap water samples from 11 different locations in the national capital failed to meet quality norms in preliminary tests of the Bureau of Indian Standards (BIS).
Background
BIS had received the samples for testing after consumer affairs minister Ram Vilas Paswan earlier this week claimed that Delhi's tap water is unfit for drinking.

Details
All the samples failed on 24 parameters which included TDS count, ph value and odour, among other norms.

Currently only the packaged drinking water is expected to meet BIS standards. BIS standard for tap water is voluntary for public agencies which supply and distribute water.

The current BIS standards formed in 2012 is alleged to be not par with international standards.
BIS standards for drinking water
The standard was adopted by the Bureau of Indian Standards with the following objectives -
To assess the quality of water resources.

To check the effectiveness of water treatment and supply by the concerned authorities.
The various parameters covered include colour, odour, pH, total dissolved solids, hardness, alkalinity, elemental compounds such as iron, manganese, sulphate, nitrate, chloride, fluoride, arsenic, chromium, copper, cyanide, lead, mercury, zinc and coli form bacteria.
Bureau of Indian Standards
The Bureau of Indian Standards (BIS) is the national Standards Body of India working under the aegis of Ministry of Consumer Affairs, Food & Public Distribution, Government of India.
It is established by the Bureau of Indian Standards Act, 1986 which came into effect on 23 December 1986.
Functions
Standard formulation and promotion
One of the major functions of the Bureau is the formulation, recognition and promotion of the Indian Standards.
These cover important segments of economy, which help the industry in upgrading the quality of their products and services.
Product Certifications are to be obtained voluntarily.
For, some of the products like Milk powder, Drinking Water, LPG Cylinders, etc., certification is mandatory as these products are concerned with health and safety.
For foreign manufacturers
Foreign manufacturers of products who intend to export to India also may obtain a BIS product certification license.
For some products various Indian government ministries/departments/agencies makes its compulsory to have BIS certification
Indian importers who intend to get Certification Mark may apply for the license.