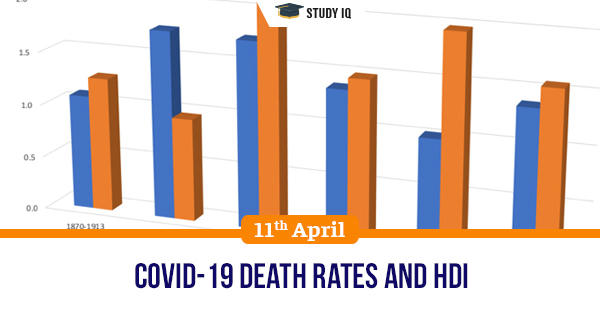 COVID-19 death rates and HDI
Date: 11 April 2020
Tags: Reports & Indices
Issue
An analysis of data by the Johns Hopkins University tracker shows that the top five countries with the highest mortality rate are the ones which lack a sufficient and robust health system and have fared poorly in latest Human Development Index (HDI) report released by United Nations Development Programme (UNDP).
Background
Human Development Index measures a country's overall achievement in its social and economic dimensions like health, level of education and standard of living.
Details
Zimbabwe, which has so far recorded 11 cases and 3 deaths, has the highest mortality rate of 27.30 per cent, which is nearly five times that of the global rate of 5.9 per cent. Zimbabwe is followed by Bahamas, Guyana, Algeria and Myanmar — none of which feature in the top 10 countries with most cases or fatalities.

Zimbabwe also ranked a lowly 132 out of 195 countries in the Global Health Security (GHS) Index, which measures health security and related capabilities of countries.

Bahamas, which has recorded 41 coronavirus cases and eight deaths so far, has the second highest mortality rate at 19.50 per cent, nearly four times that of the global average rate. With a score of 0.805, the Caribbean country's HDI rank is 60 and according to the GHS Index, it ranks 177.

Moreover, all the above countries feature in the bottom half of the Human Development Index — Guyana (123rd), Algeria (82nd) and Myanmar (145th) — signalling that the healthcare system of the countries is bound to face challenges in dealing with the pandemic.

Despite Italy having an HDI rank of 29, one factor affecting the country's death rate may be the age of its population. Italy has the oldest population in Europe, with about 23 per cent of residents 65 or older.

Similarly, countries with the lowest mortality rate — Qatar (0.30 per cent), Singapore (0.30 per cent), Iceland (0.40 per cent), United Arab Emirates (0.50 per cent) and Latvia (0.50 per cent) — appear in the top 40 of the Human Development Index.
Human Development Index (HDI)
The Human Development Index (HDI) is a statistic composite index of life expectancy, education, and per capita income indicators, which are used to rank countries into four tiers of human development.

A country scores a higher HDI when the lifespan is higher, the education level is higher, and the gross national income GNI (PPP) per capita is higher.

It was developed by Pakistani economist Mahbub ul Haq and Indian economist Amartya Sen and was further used to measure a country's development by the United Nations Development Programme (UNDP)'s Human Development Report Office.

This index is a tool used to follow changes in development levels over time and to compare the development levels of different countries.

Evaluating a country's potential for individual human development provides a supplementary metric for evaluating a country's level of development besides considering standard economic growth statistics, such as gross domestic product (GDP).