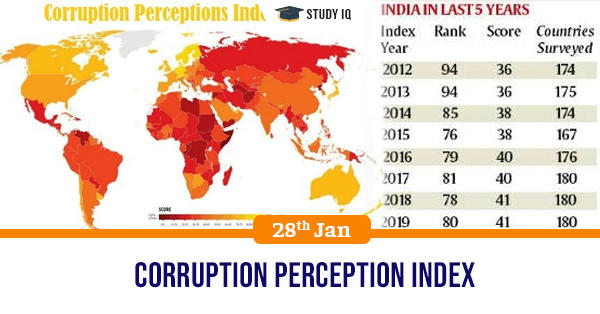 Corruption Perception Index
Date: 28 January 2020
Tags: Reports & Indices
Issue
India has slipped two spots to number 80 in the Corruption Perceptions Index (CPI), with its score remaining the same at 41.
Background
The 2019 CPI, released on January 23, draws on 13 surveys and expert assessments to measure public sector corruption in 180 countries and territories.
Details
The index is prepared annually by the Germany-based Transparency International, and offers a snapshot of the relative degrees of public sector corruption by ranking countries and territories from around the world. It gives each country a score from zero (highly corrupt) to 100 (very clean).

Major protests across the world last year signal a growing lack of trust in government, and erode public confidence in political leaders, elected officials and democracy.

In democracies like India and Australia, unfair and opaque political financing, undue influence in decision-making and lobbying by powerful corporate interest groups, has resulted in stagnation or decline in the control of corruption.

Report shows corruption is more pervasive in countries where big money can flow freely into electoral campaigns and where governments listen only to the voices of wealthy or well-connected individuals.

The top ranked countries are New Zealand and Denmark, with scores of 87 each, followed by Finland (86), Singapore (85), Sweden (85) and Switzerland (85).

The countries ranked at the bottom of the list are Somalia, South Sudan and Syria with scores of 9, 12 and 13. These countries are closely followed by Yemen (15), Venezuela (16), Sudan (16), Equatorial Guinea (16) and Afghanistan (16).