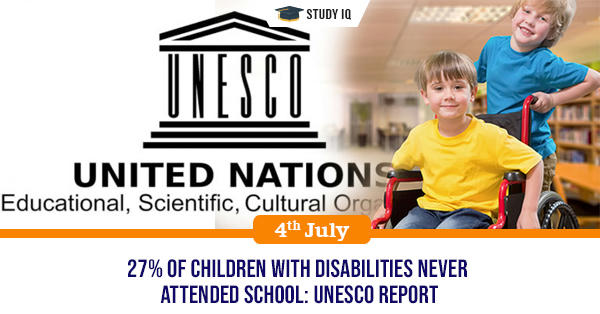 27% of children with disabilities never attended school: UNESCO report
Date: 04 July 2019
Tags: Reports & Indices
According to recently released report titled "State of the Education Report for India-2019: Children with Disabilities", 27% of children with disabilities (CwDs) have never been to school in India. The report was prepared by United Nations Educational, Scientific and Cultural Organization (UNESCO) and Tata Institute of Social Sciences (TISS).
Key findings of report
Citing 2011 census data it was found that there are more than 78 lakh CwDs in the country between age of 5 to 19 years.

Only 61% of them were attending an educational institution, about 12% had dropped out, and 27% had never been to school at all.

Around 75% of five-year-olds with disabilities are not in school. There are fewer girls with disabilities in school than boys. But the differences remain among various types of disabilities.

Only 20% of children with visual and hearing impairments had never been in school. However, among children with multiple disabilities or mental illness, that figure rose to more than 50%.

It recommends amending Right to Education (RTE) Act, 2009 to make it align with Right of Persons with Disabilities Act, 2016.