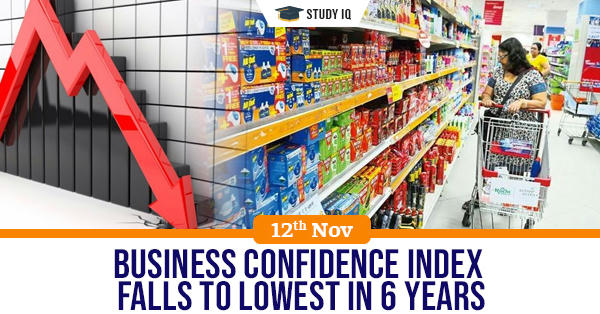 Business confidence index falls to lowest in 6 years
Date: 12 November 2019
Tags: Reports & Indices
Issue
Business confidence of India declined to its lowest in six years in August-October, according to the latest survey released by Delhi-based think tank National Council of Applied Economic Research (NCAER).
Background
Indian businesses have been battling demand slowdown and liquidity crunch, which resulted in economic growth rate cooling to a six-year-low of 5% in the June quarter, while private consumption expenditure was at an 18-quarter-low of 3.1%.
Details
According to the quarterly survey, the Business Confidence Index (BCI) dipped to 103.1, falling 15.3% from the quarter ended July. The BCI was at 100.4 in October 2013.

The BCI survey asks four questions with equal weight to the answers such as the overall economic conditions will be better in the next six months, the financial position of firms will improve in the next six months, the present investment climate is positive and the present capacity utilisation is close to or above optimal.

The fall in the BCI in October 2019 was driven by deterioration in sentiment across all four components.

Firms with annual turnover of less than ?1 crore or micro firms was the only group that showed a slight upswing of 2% in BCI over the previous quarter.

Firms with annual turnovers of ?10-100 crores registered the maximum fall of 20.6% in BCI followed by ?100-500 crores and ?1-10 crores firm groups with 17.6% and 14%, respectively.

The other related survey of Political Confidence Index (PCI) released by NCAER fell 35.6% to its lowest since July 2013 after two consecutive increases.

The eight components comprising PCI are "managing overall economic growth", "managing exchange rate", "pushing the economic reforms forward", "managing government finance", "managing conducive political climate", "external trade negotiations", "managing unemployment", and "managing inflation".
Business Confidence Index
This business confidence indicator provides information on future developments, based upon opinion surveys on developments in production, orders and stocks of finished goods in the industry sector. It can be used to monitor output growth and to anticipate turning points in economic activity..
Political Confidence Index
The PCI measures businesses' expectations from the government on managing economic growth, maintaining a conducive political environment and pushing economic reforms, among other yardsticks.