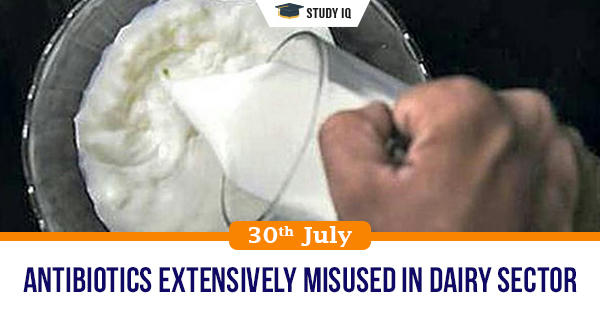 Antibiotics extensively misused in dairy sector
Date: 30 July 2020
Tags: Reports & Indices
Issue
A survey report by the Centre for Science and Environment (CSE) has found out that antibiotics are extensively misused in the dairy sector and its residues remain largely untested in milk.
Background
Experts are concerned that we are staring at another pandemic-like situation — that of antibiotic resistance fuelled by the way we are producing our food.
Details
The CSE's assessment shows that dairy farmers indiscriminately use antibiotics for diseases such as mastitis (infection/inflammation of the udder), a common ailment in dairy animals.

Often, these include critically important antibiotics (CIAs) for humans — the WHO has warned that they should be preserved in view of the growing crisis of antibiotic resistance.

The abused antibiotics are easily available without the prescription of a registered veterinarian and stocked at farms.

Farmers often inject animals based on their own judgment of signs and symptoms of a disease without any veterinary supervision.

Farmers often sell milk while the animal is under treatment, which increases the chances of antibiotic residues.

While milk sold directly to consumers is not tested, contrary to what one would expect, processed milk sold in packets is also largely unchecked for antibiotic residues.

India is the world's largest milk producer. Urban areas consume 52% of it, and the unorganised sector, comprising milkmen and contractors, caters to 60% of this consumer base.