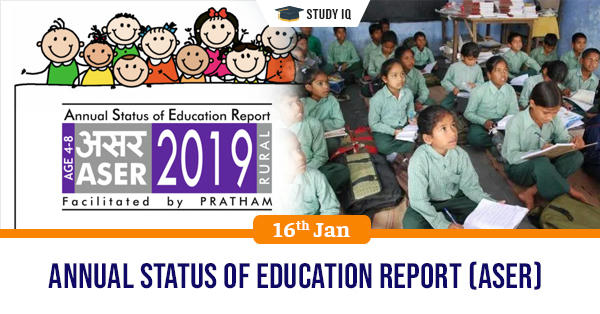 Annual Status of Education Report (ASER)
Date: 16 January 2020
Tags: Reports & Indices
Issue
Only 16% of children in Class 1 in 26 surveyed rural districts can read text at the prescribed level, while almost 40% cannot even recognise letters, according to the Annual Status of Education Report (ASER) 2019, released by NGO Pratham.
Background
The report, based on a survey conducted in 26 districts across 24 states by education non-profit Pratham, also highlights a gender gap in schooling.
Details
Just 37.4% of children below six are able to recognize at least letters and only 25.6% can do additions, according to the report.

Similarly, only 34.8% of children in Class II can read a text meant for the level below.

And at Class III, only 50.8% can read texts meant for their juniors two levels below.

Of six-year olds in Class 1, 41.5% of those in private schools could read words in comparison to only 19% from government schools. Similarly, 28% of those in government schools could do simple addition as against 47% in private schools.

The study also showed how a better education level among mothers can lead to better outcomes among children in preschools and early schools.

Numeracy skills among Class III children of illiterate mothers are much lower than those whose mothers had studied till Class XI or above.

Only 29.2% of Class III children of illiterate mothers can do a two-digit addition. This rises to 64% for the same student cohort of mothers, who have studied at the level of senior secondary or above.

The findings also showed that more girls are enrolled in government institutions and more boys in private institutions.

The gap in enrolment between boys and girls is larger among 6-8 year olds, with 61.1% of all girls versus 52.1% of all boys in this age group going to a government institution.

The report argues that a focus on cognitive skills rather than subject learning in the early years can make a big difference to basic literacy and numeracy abilities.
ASER (Annual Status of Education Report) is an annual survey that aims to provide reliable annual estimates of children's schooling status and basic learning levels for each state and rural district in India.