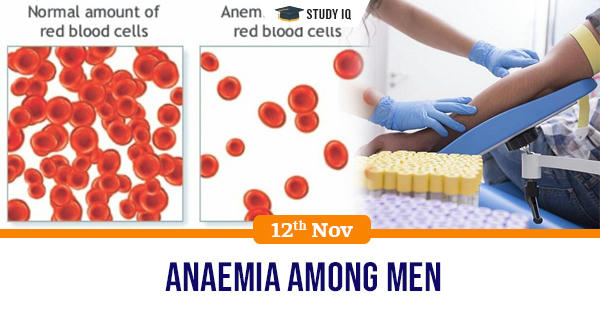 Anaemia among men
Date: 12 November 2019
Tags: Reports & Indices
Issue
A study has revealed that anaemia among men in India is an important public health problem with state-level prevalence in men varying from 9.2% in Manipur to 32.9% in Bihar.
Background
The report noted that while studies on anaemia in India have mostly focused on women and children, men have received far less attention.
Details
Anaemia in men can cause fatigue, lethargy, creates difficulty in concentrating, thereby reducing the quality of life and decreasing economic productivity.

The study is aimed to determine variation in prevelance of anaemia across states by socio-demographic characteristics and whether the variations are similar to that among women.

The study found that in men, the prevalence of any anaemia was 23.2%, moderate or severe anaemia was 5.1%, and severe anaemia was 0.5%.

An estimated 21.7% of men with any degree of anaemia had moderate or severe anaemia compared with 53.2% of women with any anaemia.

Cases among men ranged from moderate or severe (5.1%) to severe anaemia (0.5%).

Among age groups, men in the group 20-34 years had the lowest probability of having anaemia, while actual prevalence was lowest in the age group 50-54, at 7.8%. The prevalence was higher for younger age groups.

Among the states, the highest prevalence of any anaemia was in Bihar, with 32.9% of the men reporting it. This is followed by West Bengal (30.46%), Jharkhand (30.3%), Meghalaya (29.13%) and Odisha (28.45%).

The lowest prevalence among men was in Manipur (9.19%), followed by Mizoram (9.78%), Nagaland (10.23%), Goa (10.68%) and Kerala (11.77%).
Anaemia
The World Health Organization defines anaemia as a condition in which the number of red blood cells or their oxygen-carrying capacity is insufficient to meet physiological needs.

Factors such as consuming smokeless tobacco, being underweight, level of urbanisation and household wealth are associated with a higher probability of developing the disease.