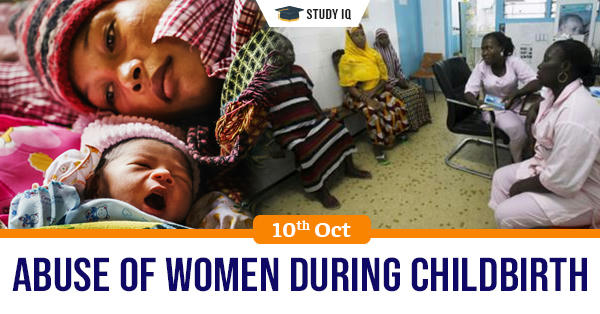 Abuse of women during childbirth
Date: 10 October 2019
Tags: Reports & Indices
Issue
A new report says more than one-third of women in four low-income countries in Africa and Asia were abused during childbirth in health centres during treatment.
Background
The new study led by the World Health Organization followed more than 2,000 women during labour and interviewed more than 2,600 women after childbirth. The report has been prepared based on their feedback.
Details
The study published in The Lancet medical journal says women in Nigeria, Myanmar, Ghana and Guinea also experienced high rates of cesarean sections and surgical cuts to the vagina, or episiotomies, without their consent and often without a painkiller.

Mistreatment during childbirth can amount to a violation of human rights, and could be a powerful disincentive from seeking facility-based maternity care.

Some 42% reported physical or verbal abuse or discrimination during childbirth which included punching, shouted at, scolded or forcibly held down.

Younger, less-educated women are at risk of such mistreatment which also includes neglect by health workers or the use of force during procedures.

Previous reports have documented physical abuse of women in eastern Europe, particularly those of Roma descent, including instances where women are forcibly separated from their newborns for several days.

Abusive practices during maternal care have also been widely reported across Latin America, where Venezuela became the first country to legislate against specific unethical practices.

The study suggested allowing women to have a companion of their choice present during childbirth, improving the informed consent process and redesigning maternity wards to improve privacy.
WHO
The World Health Organization(WHO) is a specialized agency of the United Nations that is concerned with international public health.

It was established on 7 April 1948, and is headquartered in Geneva, Switzerland.

The WHO is a member of the United Nations Development Group.