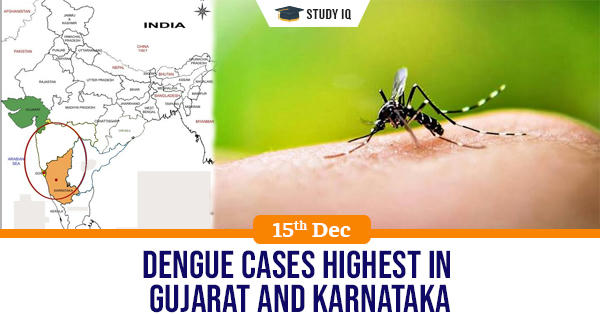 Dengue cases highest in Gujarat and Karnataka
Date: 15 December 2019
Tags: Reports & Indices
Issue
Gujarat has topped the list of total dengue cases at 16,565 and Karnataka is close behind with 15,929 cases reported from January till December 7, this year according to data from National Vector Borne Disease Control Programme (NVBDCP).
Background
The numbers in these two States are fluctuating with minor changes in the last two weeks. But it is a fact that these two States are endemic for dengue this year.
Details
Although dengue was earlier associated with monsoon, it has now become a self-limiting viral fever which is prevalent all through the year. The dengue-causing Aedes aegypti mosquito breeds in freshwater and bites during the day.

The number of dengue cases in Karnataka has gone up from 3,358 in 2014 to 17,265 in 2017. In 2017, Karnataka was behind Tamil Nadu and Kerala that reported 23,294 and 19,973 dengue cases, respectively. Karnataka reported 4,427 cases in 2018.

According to Karnataka's Health Department data, there has been more than a four-fold rise in dengue incidence this year compared to last year.

The transmission of dengue is governed by various ecological factors. This coupled with unplanned developmental activities, improper water storage, migration and improper solid waste management also play a crucial role in the upsurge of dengue cases.
Dengue
Dengue is a mosquito-borne viral infection causing a severe flu-like illness and, sometimes causing a potentially lethal complication called severe dengue.

Those who become infected with the virus a second time are at a significantly greater risk of developing severe disease.

Symptoms include high fever, headache, rash and muscle and joint pain. In severe cases there is serious bleeding and shock, which can be life threatening.

Treatment includes fluids and pain relievers. Severe cases require hospital care.