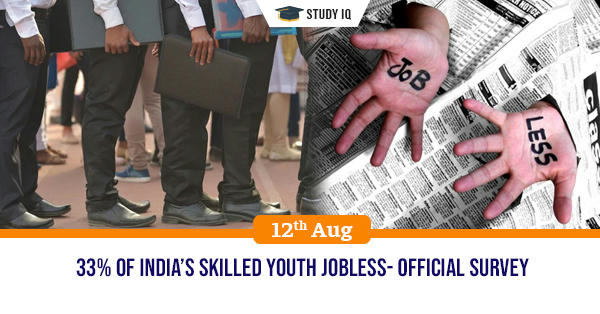 33% of India's skilled youth jobless- Official Survey
Date: 12 August 2019
Tags: Reports & Indices
Issue
The PLFS data from official survey has pointed out that 33% of Indian youth population (15-29 years) who received formal technical training were not part of labor force or seeking any employment opportunities. This also involves substantial share of women force.
Background
After the launch of Pradhan Mantri Kaushal Vikas Yojana (PMKVY), the government's skill imparting flagship scheme, there was widespread belief of improving employment rate.
The government appointed committee led by Sharda Prasad found the targets too ambitious and funds spent were not subject to adequate monitoring leading to stagnant employment rates.
Highlights of report
Three fifth young skilled young women out of labour force.

The unemployment rate among freshly trained youth, who completed training during the previous year, was even higher at 40%

The bulk of the training received by younger population were in the fields of IT, electronics, mechanical sectors.

80% trainees in the field of agriculture and food processing, telecom, media and mass communication were men whereas the fields of beauty and wellness, apparel, handicrafts, hospitality and healthcare were dominated by women.
Reasons for unemployment rates
One of the reason why such a large section of 'skilled' workers were out of labor force

Could be difficulty in finding jobs.

The education profile doe not suit employment profile. The educational standards are not upto the mark.

Lack of practical approach in educational standards.
How can issue be addressed?
Education for students, especially technical has to be in sync with industrial requirements.

Periodic review of syllabus in order to keep them updated to latest ones based on demand.

Outcome based education that is guided by fixed framework instead of independently created syllabus.