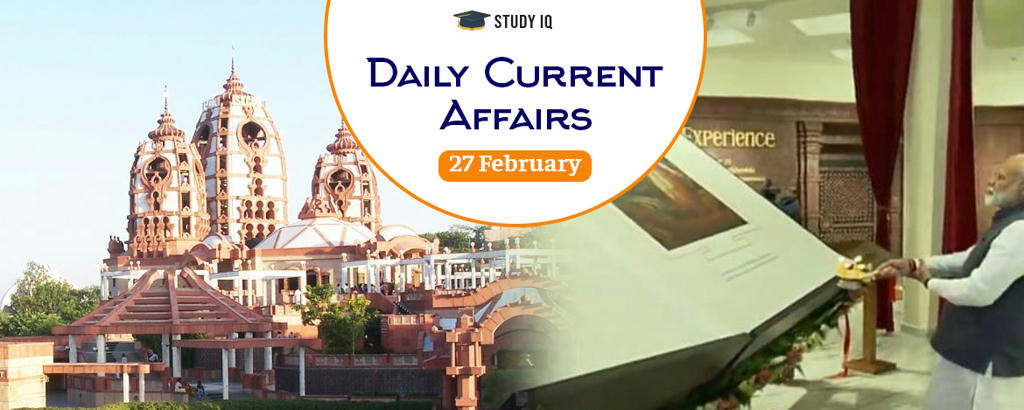 World's largest Bhagavad Gita unveiled at Delhi's ISKCON temple
Date: 27 February 2019
Tags: Literature, Religions
Prime Minister Narendra Modi unveiled world's largest Bhagwad Gita (in terms of size and weight) at International Society for Krishna Consciousness (ISKCON) Temple in New Delhi on the occasion of Gita Aradhana Mahotsav. It is dubbed as the 'Astounding Bhagavad Gita'.
Key Facts
It is largest principle sacred text ever to be printed. It measures 2.8×2 metres and weighing more than 800 kilogram. It has original verses of Bhagwad Gita along with commentary.

It has artistic touch of 18 exquisite paintings and innovative elegant layout. It was printed in Milan, Italy on YUPO synthetic paper so as to make it untearable and waterproof.
Bhagavad Gita
Often referred as Gita (The Song of God). It is 700 verse Hindu scripture in Sanskrit language that is part of Hindu epic Mahabharata.

It is set in narrative framework of dialogue between Pandava warrior prince Arjuna and his guide and charioteer Lord Krishna. It has three major themes: knowledge, action, and love.

It presents synthesis of Hindu ideas about dharma, theistic bhakti and yogic paths to moksha. The synthesis presents four paths to spirituality – jnana, bhakti, karma, and raja yogas. These incorporate ideas from Samkhya-Yoga and Vedanta philosophies.