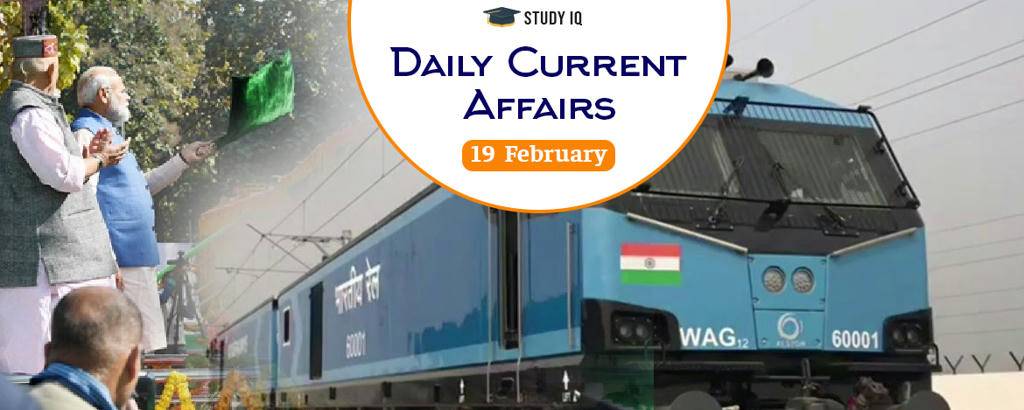 World's first Diesel to Electric Converted High Horse Power Twin Rail Engine flagged off
Date: 19 February 2019
Tags: Railways
Prime Minister Narendra Modi flag-offed world's first Diesel to Electric Converted High Horse Power Twin Rail Engine at Diesel Locomotive Works (DLW) in Varanasi, Uttar Pradesh. This 10,000HP twin loco was converted from two units of old diesel locomotives of 2,600HP each in record 69 days with indigenous technology under Make In India initiative. The feat was achieved by DWL with help Research Designs and Standards Organisation (RDSO), Chiitaranjan Locomotive Works (CLW) and Bharat Heavy Electricals Ltd. (BHEL).
Key Features of converted engine
It delivers 10,000 Horse Power (HP) against 2 X 2612 HP of two diesel locomotive. It increases power of electric loco up to 92%.

Its haulage power is adequate to haul load up to nearly 5300 Tonnes, providing around 2:1 HP to trailing load ratio. It can pull heavy freight train with ease and will also increase sectional capacity.

It is completely ecofriendly engine and will save upto Rs. 1.9 crore fuel expense per annum per engine.

The conversion cost of diesel locomotive into electric locomotive is less than cost of midlife rehabilitation of a diesel locomotive.

Indian Railways now is planning to convert all diesel locomotives into electric locomotives during midlife rehabilitation. This will significantly reduce fuel bill of Indian Railways in long run.