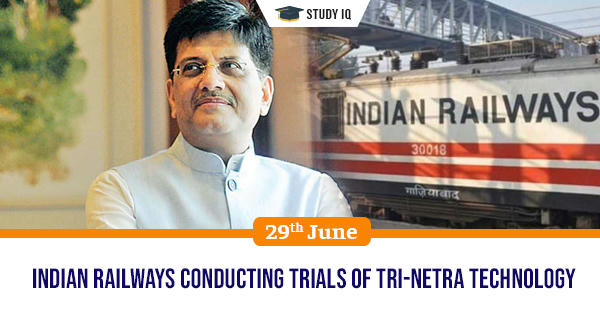 Indian Railways conducting trials of Tri-Netra technology
Date: 29 June 2019
Tags: Railways
Union Railway Minister Piyush Goyal has informed Rajya Sabha that Indian Railways is conducting extensive trials of TRI-NETRA (Terrain Imaging for Drivers Infrared, Enhanced, Optical & Radar Assisted) technology for detecting obstructions on tracks to reduce accidents. He also informed that it will be introduced only after it is found to be perfect in detecting any obstruction on tracks during fog.
Tri-Netra Technology
It is an advance system is made up of high-resolution optical video camera, radar-based terrain mapping system and high-sensitivity infrared video camera.

These three components will act as three eyes (Tri-Netra) of the Locomotive Pilot for detecting obstructions on tracks.

Functioning:

It provides a locomotive pilot a clear view of raling track by using combination of infrared and radar technology to collect signals up to distance of 2-3 km. It displays information on screen fitted inside the locomotive. In case of any physical obstruction on railway tracks ahead it alerts driver and thus give ample time for driver to apply brakes to prevent train accidents.

Benefits:

It will be very useful during inclement weather especially incase of fog, heavy rain and nights, when drivers have to constantly look outside locomotive to judge condition along the tracks. It will help to reduce train accidents by keeping record of track maintenance and will also provide better visibility during foggy days. It will also help in maintaining high speed in poor visibility and avoid delay in arrivals.