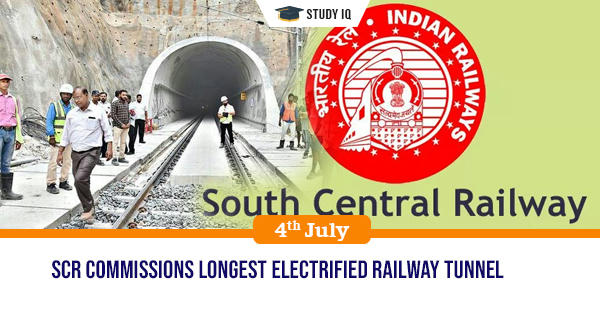 SCR commissions longest Electrified Railway Tunnel
Date: 04 July 2019
Tags: Railways
South Central Railway (SCR) commissioned the longest electrified tunnel measuring 6.6 kilometres in Indian Railways. It is situated between Cherlopalli and Rapuru stations. It is part of 113-km new railway line completed recently between Obulavaripalli– Venkatachalam – Krishnapatnam Port.
Features about electrified tunnel
It is constructed in the shape of 'Horse Shoe' on New Australian Tunnelling Method. Its height (rail level to roof) is 6.5 metres and minimum height of contact wire is maintained at 5.2 metres. It has been constructed at cost of Rs. 460 crore and completed in record time of 43 months. It will facilitate direct and viable connectivity between South Coast and West Coast Railway and improve freight revenue of the zone.
Significance: It opens up viable rail connectivity between Krishnapatnam Port and its hinterland for goods train services. It will be helpful for decongesting traffic on Vijayawada-Gudur main line. It will reduce the distance between Krishnapatnam Port and the hinterland areas by 60 km and travel time by five hours from earlier ten hours.