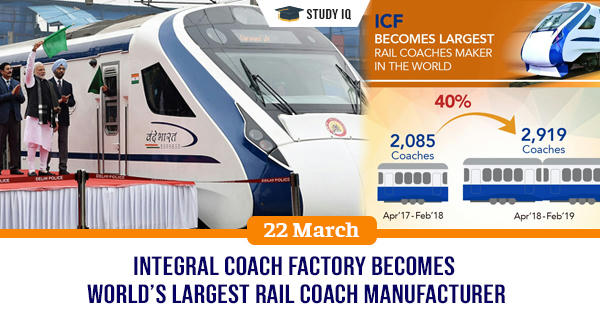 Integral Coach Factory becomes World's Largest Rail Coach Manufacturer
Date: 22 March 2019
Tags: Railways
Indian Railways' Chennai based Integral Coach Factory (ICF) became world's largest rail coach manufacturer after surpassing top Chinese manufacturers. ICF had manufactured 2,919 coaches from April 2018 to February 2019 as compared to 2,600 coaches by Chinese manufacturers. The number of coaches manufactured were 40% higher than those manufactured previous year in same time period.
Integral Coach Factory (ICF)
ICF is rail coaches manufacturer located in Chennai, Tamil Nadu. It was inaugurated by first Prime Minister of India Pt. Jawaharlal Nehru in 1955.

It is owned and operated by Central Government (Union Ministry of Railways) through Indian Railways. It primarily manufactures rolling stock for Indian Railways.

It manufactures range of coaches, including Linke-Hofmann-Busch (LHB), self-propelled train sets (SPTs) such as electrical multiple units (EMU).

It also exports railway coaches to other countries including Zambia, Philippines, Tanzania, Uganda, Nigeria, Thailand, Myanmar, Taiwan, Vietnam, Mozambique, Bangladesh, Angola and Sri Lanka.

It is one of three coach manufacturing facilities of Indian Railways with the other two being Rail Coach Factory, Kapurthala and Modern Coach Factory, Raebareli.