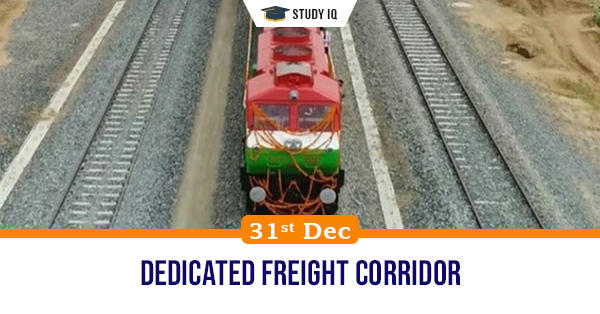 Dedicated freight corridor
Date: 31 December 2020
Tags: Railways
Issue
Prime Minister Narendra Modi inaugurated a 351-km section between Khurja and Bhaupur in Uttar Pradesh for commercial operations of the Dedicated Freight Corridor (DFC).
Background
The DFC is one of the biggest infrastructural project undertaken by the railways post-independence.
Details
The DFC consists of two arms. The section launched is part of the 1,839-km Eastern DFC that starts at Sohnewal (Ludhiana) in Punjab and ends at Dankuni in West Bengal.

The other arm is the around 1,500-km Western DFC from Dadri in Uttar Pradesh to JNPT in Mumbai, touching all major ports along the way.
Significance
Around 70% of the freight trains currently running on the Indian Railway network are slated to shift to the freight corridors, leaving the paths open for more passenger trains.

This is like building an entire railway network from scratch, independent of Indian Railways. All the installations are new, including the stations.

Tracks on DFC are designed to carry heavier loads than most of Indian Railways. DFC will get track access charge from the parent Indian Railways, and also generate its own freight business.

Foodgrain and fertilisers from the northern region are transported to the eastern and North-east regions. From East and Northeast, coal, iron ore, jute, and petroleum products are transported North and West.
Western DFC
In the Western DFC, the section between Rewari (Haryana) and Madar (Rajasthan) has been completed. The subsequent sections are up to Palanpur in Gujarat, then to Makarpura and finally to JNPT.