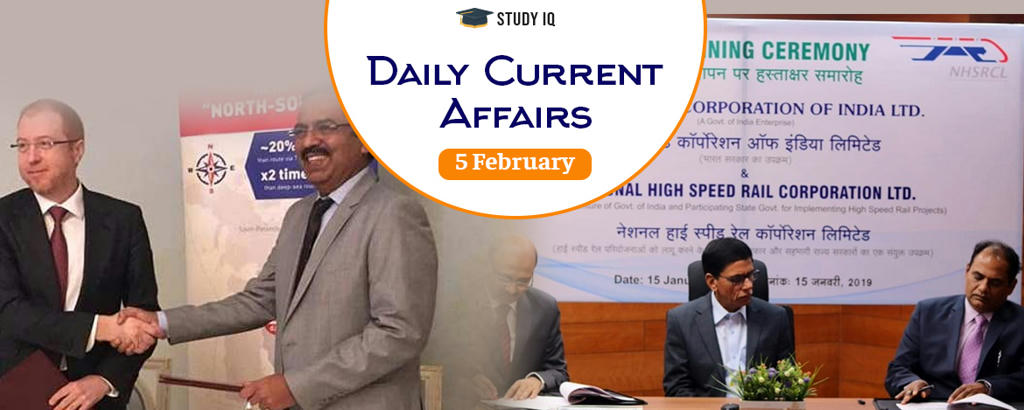 CONCOR inks MoU with Russian firm to explore logistics opportunities
Date: 05 February 2019
Tags: Railways
State-run Container Corporation of India limited (CONCOR) has inked memorandum of understanding (MoU) with Russian Railways Company JSC RZD Logistics to explore opportunities in logistics sector in Eursia. The MoU purports to explore opportunities in developing joint logistical projects both in and in Russia using international transport corridors in particular International North South Transport Corridor (INSTC).
With signing of MoU, both companies intend to
Set up joint enhancement of India-Russian logistical cooperation.

Develop prospective projects related to container trans-shipment between two countries.

Design new top-quality logistical services to further improve efficiency of INSTC route.
Significance
It is considered as strategic move in terms of Eurasian multi-modal logistics markets and promote further cooperation and trust between two nations.

This strategic alliance will strive to design innovative new initiatives to reduce total logistics cost of international trade, enhancing logistical efficiency and bilateral relations.

With this potential in business, both countries aim at developing state-of-the-art logistical services including INSTC.

Being INSTC prospective project, which is already turning out to be one of most important transport arteries of Eurasia.
Container Corporation of India limited (CONCOR)
It is Navratna Company under Ministry of Railways. It was incorporated in March 1988 under Companies Act. Its headquarters are in New Delhi.

It had commenced operation from November 1989 taking over the existing network of 7 inland container depots (ICDs) from the Indian Railways.

Currently, it has largest network of 81 ICDs or container freight stations in India (73 terminals and 8 strategic tie-ups).

It provides inland handling, transportation and warehousing activities. It now also provides services like management of ports, coastal shipping, multimodal logistics parks, air cargo complexes and cold chains etc.