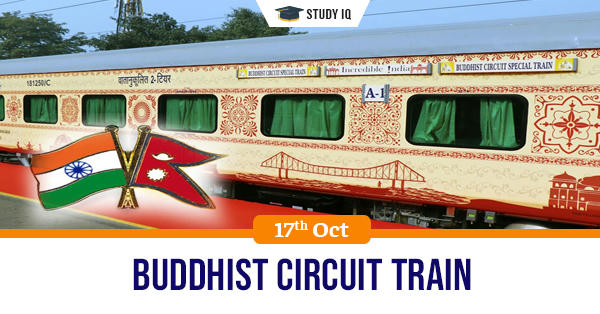 Buddhist circuit train
Date: 17 October 2019
Tags: Railways
Issue
The Railways will run its first Buddhist Circuit train this month, covering sites related to Gautam Buddha in India and Nepal.
Background
The government is taking measures to make Railways a lucrative profit making entity and such specialised trains are planned to promote tourism as well as well as culture.
Details
The train will be covering destinations like Lumbini, where Buddha was born; Bodhgaya, where he gained enlightenment; Sarnath, where he gave his first sermon; and Kushinagar, where he attained nirvana.
Themed tourist circuit trains in India
Sri Ramayan Express
The Ramayan express train will cover various place associated with Ramayana including an extended visist to Sri Lanka. Places like Ayodhya, Janakpur, Chitrakoot, Rameshwaram etc will be covered under this service.
Char Dham yatra train
covering the most important religious sites that every Hindu wish to visit at least once in the life time namely Gangotri, Yamunotri, Badrinath, Kedarnath.
Panj Takht train
The train will be covering five takhts of Sikh religion Hazoor Sahib Gurudwara at Nanded, Patna Sahib Gurudwara at Patna, Gurudwara Damdama Sahib at Bhatinda, Harminder Sahib at Amritsar, Anandpur Sahib at Anandpur Saheb.
Samatha Express
The train will cover Chaityabhoomi (Mumbai), Mhow (Indore), Bodhgaya (Gaya), Sarnath (Varanasi), Lumbini (Nautanwa), Kushinagar (Gorakhpur), Deekshabhoomi (Nagpur), all related to Dr B.R.Ambedkar.