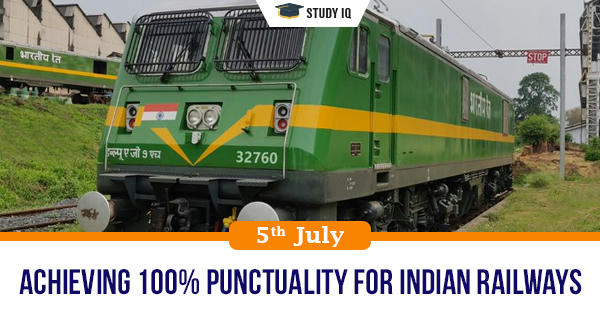 Achieving 100% punctuality for Indian Railways
Date: 05 July 2020
Tags: Railways
Issue
The Indian Railways has announced that it achieved 100 percent punctuality of its passenger trains on July 1, a never-before feat.
Background
Its previous best on-time performance, according to the Railways, was 99.54 percent on June 23, when just one train got delayed.
Details
It is indeed not an easy task given all the constraints that the Railways usually face while running a train on its designated path and time slot.

It is important, however, to remember the context – very few trains are running now, and the punctuality of the Railways can hardly be compared with its own performance on this count in pre-COVID times.

The reasons that usually cause delays have been systematically eliminated and the trains that are delayed by up to 15 minutes are considered to have been on time, as per practice.

There are unforeseen situations such as a failure of assets like the signaling system and overhead power equipment. Several types of breakdowns can occur, related to rolling stock, tracks, etc., that make a train lose time along the way.

Then there are external unforeseen problems like run-over cattle and humans, agitations on the tracks, and the like.

The maintenance of tracks was carried out in a quick time during the COVID period in various critical sections, so the average speed increased, and stretches of slowing down were minimized.

Better and modern signaling is also making an impact. Another reason is better planning and operations analysis. This is due to better monitoring at the Division level.

In normal times, failures take away a lot of scheduled time when the train is detained even for a short time because making up the lost time during the remainder of the journey is a tricky business.

Any train that gets delayed inordinately due to whatever reason during the journey theoretically eats into the "path" – or time slot allotted on the track – of another train. It then becomes a matter of which train to prioritise.

At the heart of the problem is network capacity constraints. This basically means that there are more trains than the network can handle in a given time bracket.

The Railways are working on what is called a "zero-based timetable". In this concept, every train that enters the network is justified based on needs and costs.