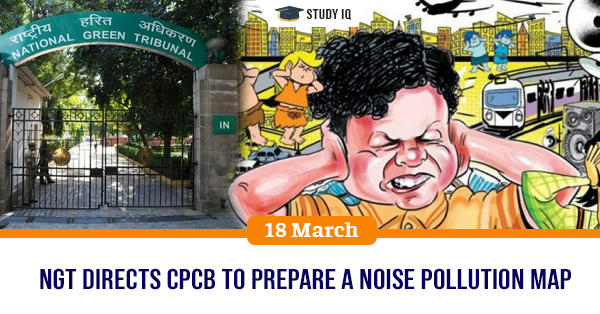 NGT directs CPCB to prepare a noise pollution map
Date: 18 March 2019
Tags: Organizations
National Green Tribunal (NGT) has directed Central Pollution Control Board (CPCB) to prepare noise pollution map and remedial action plan to solve issue across the country. NGT held that absence of implementation of noise pollution norms affects health of citizens, especially infants and senior citizens. It also held that it affects sleep, comfort and other legitimate activities.
NGT Ruling
It directed the CPCB to identify noise pollution hotspots and categorise cities with specified hotspots and propose remedial action plan within three months.

CPCB should consider expansion of its established noise monitoring mechanism functioning in seven cities to all cities where noise pollution is beyond permissible limits.

It also directed state pollution control boards to undertake noise level monitoring in conjunction with police administration and take remedial action.
Central Pollution Control Board (CPCB)
It is apex organisation in country in the field of pollution control, as a technical wing of Union Ministry of Environment, Forest and Climate Change (MoE,FCC).

It statutory organisation established in 1974 under the Water (Prevention and Control of Pollution) Act, 1974.

It is also entrusted with the powers and functions under Air (Prevention and Control of Pollution) Act, 1981.

Mandate:

Promote cleanliness of streams and wells, by prevention, control and abatement of water pollution and improve quality.

Improve quality of air and prevent, control or abate air pollution in the country.

Monitor water and air quality and maintains monitoring data.

Advise central government to prevent and control water and air pollution.
National Green Tribunal
It is quasi-judicial body established under National Green Tribunal Act 2010 for effective and expeditious disposal of cases (litigations) related to protection pf environment and conservation of forests and other natural resources.