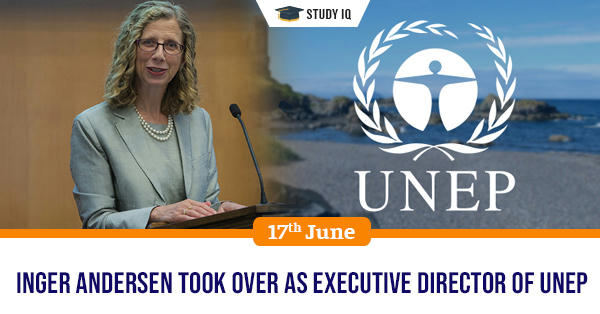 Inger Andersen took over as Executive Director of UNEP
Date: 17 June 2019
Tags: Organizations
Danish economist and environmentalist Inger Andersen took over as Executive Director of United Nations Environment Programme (UNEP) for four-year tenure. She will take over leadership of UNEP from Deputy Executive Director Joyce Msuya who has been acting Executive Director since late last year. Prior to her this appointment, she was serving as Director General (DG) of International Union for Conservation of Nature (IUCN) from January 2015 and May 2019. Earlier she had held various roles at World Bank including Vice President for Middle East and North Africa.
About UN Environment Programme (UNEP)
It is leading global environmental authority that sets global environmental agenda, promotes coherent implementation of environmental dimension of sustainable development within United Nations system. It serves as authoritative advocate for the global environment.

Its mission is to provide leadership and encourage partnership in caring for environment by inspiring, informing and enabling nations and peoples to improve their quality of life without compromising that of future generations.

It was established in June 1972 as a result of the United Nations Conference on the Human Environment. It is headquartered in Nairobi, Kenya.

Structure:

United Nations Environment Assembly is UNEP's governing body. It was established in June 2012 to replace Governing Council. Currently, it has 193 members and meets every two years.

Functions of UNEP:

(i) Develop international environmental conventions, (ii) Promote environmental science and information (iii) Fund and implement environment related development projects. (iv) Work on development and implementation of policy with national governments, regional institutions in conjunction with environmental NGOs. (v) Formulate guidelines and treaties on issues such as international trade in harmful chemicals, transboundary air pollution, and contamination of international waterways.