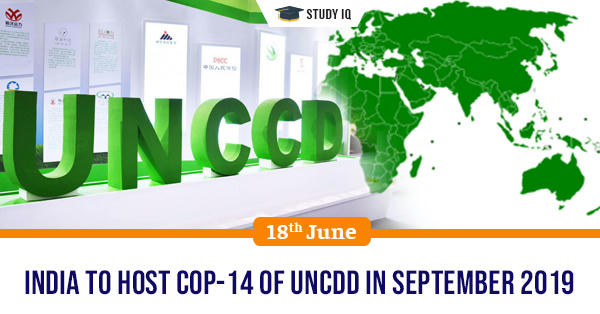 India to host COP-14 of UNCDD in September 2019
Date: 18 June 2019
Tags: Conventions, Organizations
India for first will host the 14th session of Conference of Parties (COP-14) of United Nations Convention to Combat Desertification (UNCCD) in September 2019 in New Delhi to address the issue of land degradation and desertification. India will be taking over presidency of UNCCD COP from China for the next two years until the next COP is hosted in 2021. COP-14 of UNCCD will see participation of around 5,000 delegates from nearly 197 countries. It will review reports submitted by Conference of Parties to convention and detailing how they are carrying out their commitments.
United Nations Convention to Combat Desertification (UNCCD)
It is the only internationally legally binding framework set up to address the problem of desertification.

It was adopted in 1994 and entered into force in 1996.

It addresses specifically the arid, semi-arid and dry

sub-humid areas, known as the drylands.

Its 197 parties work and collaborate together to improve living conditions for people in drylands, to maintain and restore land and soil productivity, and to mitigate the effects of drought.

It is also particularly committed to bottom-up approach and encourages participation of local people in combating desertification and land degradation
Conference of the Parties (COP):

It is supreme decision-making body of UNCCD. It comprises ratifying governments and regional economic integration organizations, such as European Union. Its primary function is to review reports submitted by Parties detailing how they are carrying out their commitments. It also makes recommendations on the basis of these reports. It has power to make amendments to Convention or to adopt new annexes, such as additional regional implementation annexes.

UNCCD 2018-2030 Strategic Framework:

It is most comprehensive global commitment to achieve Land Degradation Neutrality (LDN) in order to restore productivity of vast expanses of degraded land, improve livelihoods of more than 1.3 billion people and reduce impact of droughts on vulnerable populations.

Collaboration with other Conventions:

As the dynamics of land, climate and biodiversity are intimately connected, it collaborates closely with other two Rio Conventions; Convention on Biological Diversity (CBD) and United Nations Framework Convention on Climate Change (UNFCCC) to meet these complex challenges with integrated approach and best possible use of natural resources.