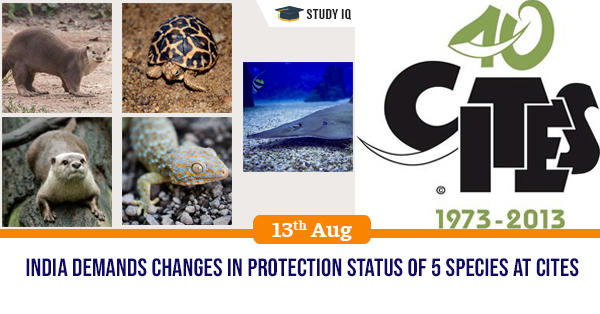 India demands Changes in protection status of 5 species at CITES
Date: 13 August 2019
Tags: Organizations
Issue
India has been trying to boost protection status of 5 species at CITES. India has submitted proposals regarding changes during latest meeting in Geneva Switzerland.
Background
CITES (Convention on International Trade in Endangered Species on Wild Fauna and Flora) is an international treaty to ensure that trade in wild animals and plants do not threaten their survival

.

The proposals submitted are regarding changes in the listing of the smooth-coated otter, small-clawed otter, Indian star tortoise, Tokay gecko, wedge fish and Indian rosewood.
Details
For the Indian rosewood, the proposal is to remove the species from CITES Appendix II. The species covered by CITES are listed in three appendices on the degree of protection they require.

India is among the parties proposing the re-listing of the star tortoise from CITES Appendix II to Appendix I. The species faces two threats: loss of habitat to agriculture and illegal harvesting for the pet trade.

With regard to the two otter species, India, Nepal and the Philippines have proposed that the listing be moved from CITES Appendix II to Appendix I for the more endangered species. A similar proposal has been made to include the Tokay gecko in Appendix I.
Additional Information
CITES
CITES is one of the largest and oldest conservation and sustainable use agreements in existence. Participation is voluntary, and countries that have agreed to be bound by the Convention are known as Parties.

Although CITES is legally binding on the Parties, it does not take the place of national laws
TRAFFIC
TRAFFIC

, the

Wildlife Trade Monitoring Network

, is the leading non-governmental organization working globally on the trade of wild animals and plants in the context of both biodiversity and sustainable development. It was founded in 1976 as a strategic alliance of the World Wide Fund for Nature (WWF)

and the International Union for the Conservation of Nature (IUCN)

.

The organization's aim is to 'ensure that trade in wild plants and animals are not a threat to the conservation of nature'.