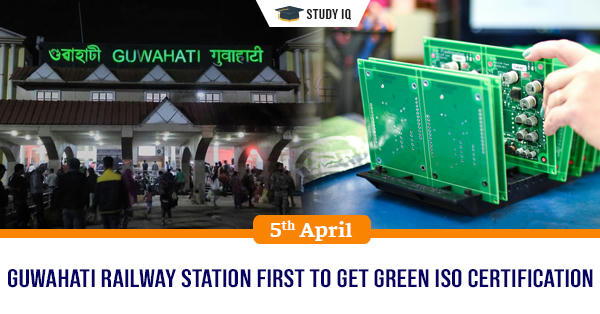 Guwahati Railway Station first to get green ISO certification
Date: 05 April 2019
Tags: Organizations
Guwahati Railway Station became first railway station of Indian Railways to get green ISO certification- ISO 14001:2015 for providing passenger amenities in a clean and green environment. It achieved this feat by successfully implementing environment management systems based on the direction of National Green Tribunal (NGT).
Key Facts
Guwahati Railway Station has obtained certification for providing passenger amenities in clean and green environment throughout entire Railway station premises.

It also provides High Class Reserve (VIP) Lounge, waiting rooms, AC and Non-AC Retiring Rooms, Refreshing Area, Food Courts and Sanitation at the station.

The certification will be reviewed in 2020, which mandates stricter environment norms regarding waste disposal among others to be adhered to Railway Station.
International Organization for Standardization (ISO)
ISO stands for "International Organization for Standardization". It promotes worldwide proprietary, industrial and commercial standards

It is international standard-setting body composed of representatives from various national standards organizations.

It was founded on 23 February 1947. It is headquartered in Geneva, Switzerland and works in 164 countries.

It is responsible for establishing standard in different area of activities. There are many types of ISO certification.

ISO-14001 is for Environment Management System

as per international norms and was upgraded last in 2015.