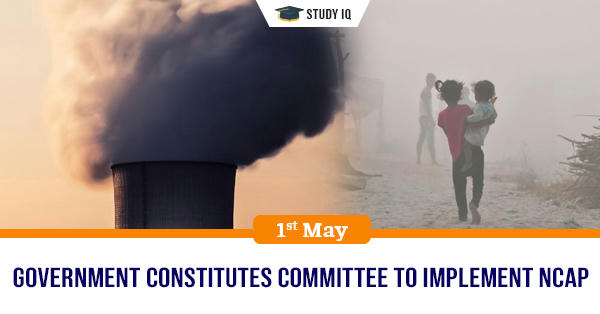 Government constitutes committee to implement NCAP
Date: 01 May 2019
Tags: Organizations
The Union Ministry of Environment, Forests and Climate Change (MoEFCC) has constituted committee to implement National Clean Air Programme (NCAP). The committee will be headquartered in New Delhi.
Composition of Committee: It will be chaired by Secretary, Union Environment Ministry. It will comprise Joint Secretary (Thermal), Ministry of Power; Director-General, Energy Resources Institute (TERI), and Professor of Indian Institute of Technology-Kanpur (IIT-K) as members.
Terms of Reference of Committee
It will ensure inter-ministerial organisation and cooperation, sharing information and resolving issues that could arise between ministries. It will also give overall guidance and directions to effectively implement the programmes.
National Clean Air Programme (NCAP)
It was unveiled in January 2019. It is envisaged as a scheme to provide the States and the Centre with a framework to combat air pollution.

It aims to provide time bound national level strategy for pan India implementation to tackle increasing air pollution problem across the country in comprehensive manner.

It is envisioned as a five-year action plan with 2019 as the first year. It will be reviewed every five years.

Target:

Reducing 20–30

%

of PM 2.5 and PM 10 concentration by 2024 taking 2017 as the base year for the comparison of concentration.

Coverage:

It will be implanted in 102 identified non-attainment cities for implementing mitigation actions under NCAP.

Implementation:

States in which cities are located are expected to produce plans that include increasing number of monitoring stations, providing technology support, conducting source apportionment studies, and strengthening enforcement. For achieving targets, cities are expected to calculate reduction in pollution, keeping 2017's average annual PM levels as the base year.

NCAP requires cities to implement specific measures such as ensuring roads are pothole-free to improve traffic flow and thereby reduce dust (within 60 days) and ensure strict action against unauthorised brick kilns (within 30 days).

Need for Plan:

The World Health Organisation's (WHO) database on air pollution has listed Tier I and Tier II Indian cities over the years as some of the most polluted places in the world. In 2018, 14 of world's 15 most polluted cities were in India.