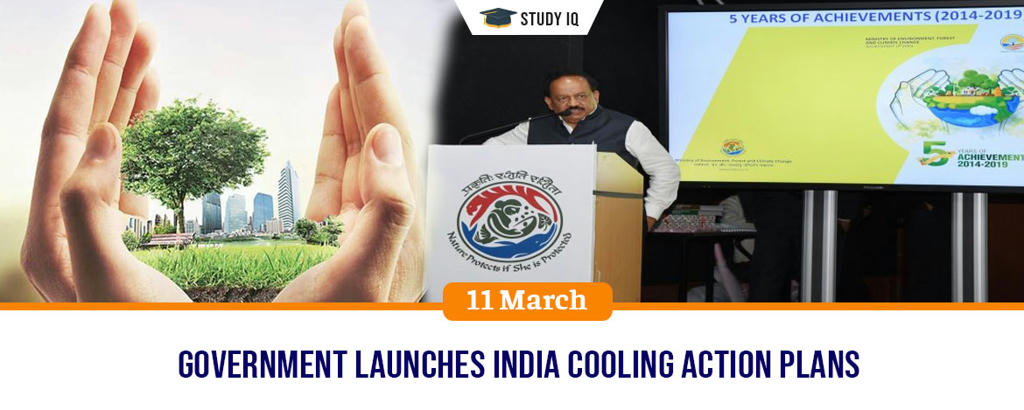 Government launches India Cooling Action Plan
Date: 11 March 2019
Tags: Conventions, Organizations
Union Ministry of Environment, Forest and Climate Change (MoEFCC) has launched India Cooling Action Plan. It makes India is one of the first countries in world to launch comprehensive cooling action plan.
It aims at providing sustainable thermal cooling to citizens while keeping in mind at same time, need to protect environment. It provides 20-year perspective, with projections for cooling needs in 2037-38.
India Cooling Action Plan (ICAP)
It provides integrated vision towards cooling across sectors encompassing inter alia reduction of cooling demand, refrigerant transition, enhancing energy efficiency and better technology options with 20year time horizon.

Its long term vision to address cooling requirement across sectors and lists out actions which can help reduce the cooling demand.

It seeks to synergies actions for securing both environmental and socio-economic benefits. This will also help in reducing both direct and indirect emissions.

Its overarching goal is to provide sustainable cooling and thermal comfort for all while securing environmental and socio-economic benefits for the society.

Goals:

(i) reduce cooling demand across sectors by 20% to 25% by 2037-38, (ii) reduce refrigerant demand by 25% to 30% by 2037-38, (iii) reduce cooling energy requirements by 25% to 40% by 2037-38, (iv) recognize cooling and related areas as thrust area of research under national S&T Programme, (v) training and certification of 100,000 servicing sector technicians by 2022-23 by synergizing with Skill India Mission.

Implementation of ICAP:

It will be overseen by inter-ministerial Empowered Steering Committee approved by Cabinet.

Ozone Cell of MoEFCC will act as Cooling Secretariat to coordinate actions with other ministries.
Societal and Environmental benefits of ICAP
Thermal comfort for all:

It has provision for cooling for Economically Weaker Section (EWS) and Low Income Group (LIG) housing.

Sustainable cooling:

It calls for low Green House Gases (GHGs) emissions related to cooling,

Doubling Farmers Income:

It provides for better cold chain infrastructure and better value of produce to farmers, less wastage of produce,

Skilled workforce:

It encourages better livelihoods and environmental protection,

Make in India:

It calls for domestic manufacturing of air-conditioning and related cooling equipment's.

Robust R&D on alternative cooling technologies

: It seeks to provide push to innovation in cooling sector.