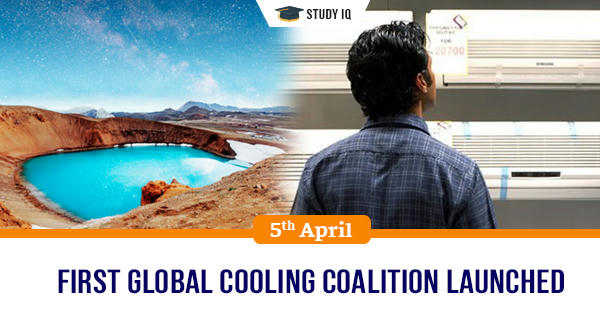 First Global Cooling Coalition launched
Date: 05 April 2019
Tags: Organizations
The first-ever Global Coalition on Clean and Efficient Cooling was launched recently at the first Global Conference on Synergies between 2030 Agenda and Paris Agreement held in Copenhagen, Denmark. It aims to inspire ambition and accelerate action on the transition to clean and efficient cooling.
Global Cool Coalition
It is global effort led by UN Environment, Climate and Clean Air Coalition, Kigali Cooling Efficiency Program and Sustainable Energy for All (SEforALL).

It seeks to be a unified front that links action across Kigali Amendment to Montreal Protocol, 2015 Paris Agreement and Sustainable Development Goals.

It is expected to inspire ambition, identify solutions and mobilise action to accelerate progress towards clean and efficient cooling.

It comprises 23 members including government officials from Chile, Rwanda, Denmark as well as leaders from civil society, research and academia. India's TERI (The Energy and Resources Institute) is also its member.

It will complement and build upon ongoing successful programs to advance clean and efficient cooling, including, Cooling for All Secretariat, Climate and Clean Air Coalition, Kigali Cooling Efficiency Programme, private sector action like Global Cooling Prize, and other initiatives.

It will also advocate for more innovation, greater investment, better information, and increased capacity to move towards clean and efficient cooling.
Background
The demand for air conditioners is projected to grow as the world gets warmer due to global warming and these cooling systems will emit more greenhouse gas (GHGs) which will endanger the planet. With increasing incomes and urbanisation, number of air conditioning (AC) units across globe is set to increase from 1.2 billion to 4.5 billion by 2050 and India alone may account for one billion units. Clean, efficient cooling appliances and equipment can save up to $2.9 trillion in energy use by 2050 and help avoid 0.4° Celsius warming of the planet. India already has developed National Cooling Action Plan in March 2019.