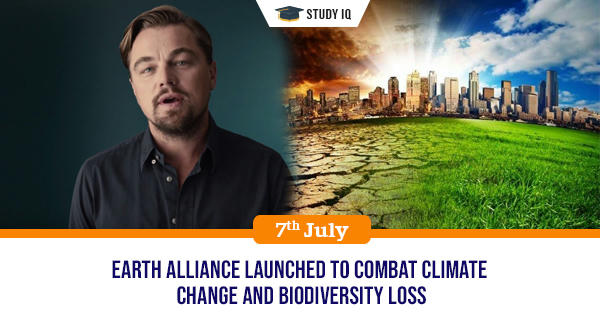 Earth Alliance launched to combat climate change and biodiversity loss
Date: 07 July 2019
Tags: Organizations
Renowned Hollywood Actor and environmentalist Leonardo DiCaprio along with billionaire investors and philanthropists Laurene Powell Jobs and Brian Sheth have launched Earth Alliance. It is a non-profit environmental organization to combat climate change and biodiversity loss.
About Earth Alliance
Founding co-chairs

: Actor Leonardo DiCaprio, investor and philanthropist Brian Sheth and businesswoman and philanthropist Laurene Powell Jobs.

Mission:

It will work globally to protect ecosystems and wildlife, ensure climate justice, support renewable energy and secure indigenous rights to the benefit of all life on Earth.

Working:

It will provide grants and educational opportunities, engage indigenous and local communities and work with grassroots organizations and individuals in the places most affected by biodiversity loss and climate change. Additionally, it will also fund campaigns, documentary films, third- party independent environmental reporting and public speaking opportunities.

Funding:

It pools resources of Leonardo DiCaprio Foundation (founded by DiCaprio), Emerson Collective (founded by Powell Jobs) and Global Wildlife Conservation (chaired by Sheth). The operational and administrative costs of Earth Alliance will be funded by Sheth Sangreal Foundation.

Management:

It will be led by independent management team of scientists and conservationists.
Profile of people:
Leonardo DiCaprio

: He is actor, film producer, and environmentalist. He has long championed environmentalism, with his eco-focused Leonardo DiCaprio Foundation (now his foundation will be merged into Earth Alliance).

Brian Sheth

: He is the board chair of Global Wildlife Conservation. He had founded The Sheth Sangreal Foundation with his wife to support environmental and educational initiatives.

Powell Jobs:

She is widow of former Apple co-founder and CEO Steve Jobs. She is philanthropist and entrepreneur and president of the Emerson Collective, a social impact organization.