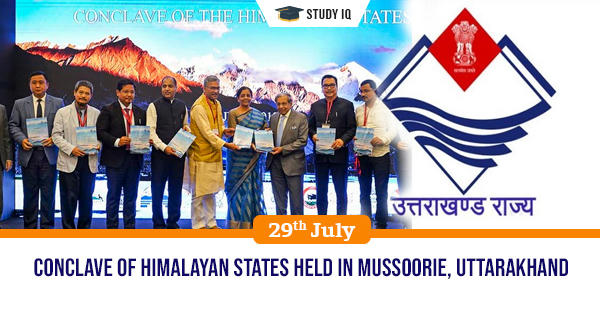 Conclave of Himalayan States held in Mussoorie, Uttarakhand
Date: 29 July 2019
Tags: Organizations
The first Conclave of Himalayan States was held in Mussoorie, Uttarakhand to discuss priorities of Indian Himalayan Region (IHR) in 15th Finance Commission (XV FC). It was initiated by Uttarakhand Government Integrated Mountain Initiative (IMI) as its knowledge partner. Union Finance Minister Nirmala Sitharaman was chief guest of the conclave. It had brought together Himalayan Staets, Central Government on single platform to deliberate on development challenges and potential of IHR and concluded with adoption of Mussoorie Resolution 2019.
Key Highlights of Conclave
It was for first time Himalayan Region states had come on single platform to take unanimous stand for dealing with problems unique to them.

Agenda:

To deliberate on issues like conservation of the Himalayan ecology, biodiversity and the cultural heritage and water conservation with focus on conserving glaciers, rivers, lakes and water bodies and reviving of water resources that have dried up over the years.

Participants:

Representatives from 10 out of 11 states took part in the conclave viz. Arunachal Pradesh, Himachal Pradesh, Jammu & Kashmir, Manipur, Meghalaya, Mizoram, Nagaland, Sikkim, Tripura and Uttarakhand. Assam did not participated in this conclave. Chairman of 15th Finance Commission NK Singh, NITI Aayog Vice Chairman Rajiv Kumar also participated along with other Central Government officials.

Green Bonus:

Himalayan states sought Green Bonus from Centre considering their contributions to environmental conservation and to compensate Himalayan states for their disadvantages.

Separate Ministry:

These state also asked Centre to set up dedicated Ministry for region, to deal with problems endemic to them.

Financial assistance:

Participating states expressed their expectations of financial assistance from the Centre in programmes of conservation and rejuvenation of rivers and other Centre sponsored schemes.

Mussoorie Resolution 2019:

Himalayan states pledged to make endeavours to protect and conserve the rich Himalayan heritage and ethos and nurture the wealth of biodiversity.
Background
Indian Himalayan Region (IHR) spreads across 11 states viz. Jammu & Kashmir, Himachal Pradesh, Uttarakhand, Sikkim, West Bengal, Assam, Arunachal Pradesh, Meghalaya, Nagaland, Manipur, Mizoram, and Tripura. It accounts for 16% of land area of India and most of the area is covered by snow-clad peaks, glaciers of higher Himalaya, dense forest cover of mid-Himalaya. It provides ecosystem services of clean air, water, bio-diversity and many other aspects of culture, crafts and natural beauty. It occupies trategic position of entire northern boundary (North-West to North-East) of India and touches almost all international borders (7 countries) with India. However, in recent times it is suffering from adverse challenges of climate change impact, poor and inaccessible infrastructure, water management, amongst others. Himalayan ecosystem is also comparatively far more vulnerable to impacts of climate change and natural disasters than the rest of the country.