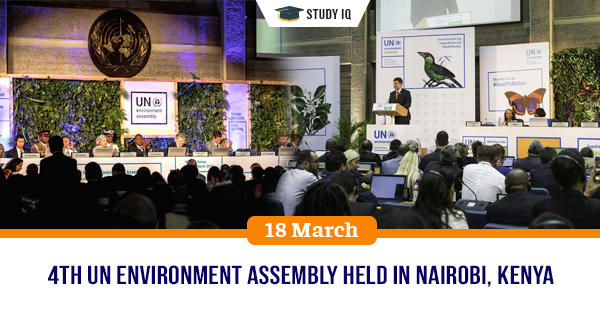 4th UN Environment Assembly held in Nairobi, Kenya
Date: 18 March 2019
Tags: Climate Change, Organizations
The fourth session of United Nations Environment Assembly (UNEA-4) was recently in Nairobi, Kenya. The theme of UNEA-4 was "Innovative Solutions for Environmental Challenges and Sustainable Consumption and Production'. President of UNEA-4 was Estonia.
UNEA-4 aimed at addressing
Environmental challenges related to poverty and natural resources management, including food security, sustainable food systems and halting biodiversity loss.

Life-cycle approaches to energy, resource efficiency, chemicals and waste management.

Innovative sustainable business development at time of rapid technological change.
In this assembly India had piloted two resolutions (i) Significantly reduce single-use plastic products by 2030 and (ii) Sustainable Nitrogen Management.
UN Environment Assembly
It is the world's highest-level decision-making body on environment. It addresses critical environmental challenges facing the world today.

It is governing body of the UN Environment Programme (UN Environment) and successor of its Governing Council, which was composed of 58 member States.

It was established in June 2012, when world leaders called for strengthen and upgrade UNEP during UN Conference on Sustainable Development (RIO+20).

It has universal membership with 193 member states. It meets biennially to set priorities for global environmental policies and develop international environmental law.