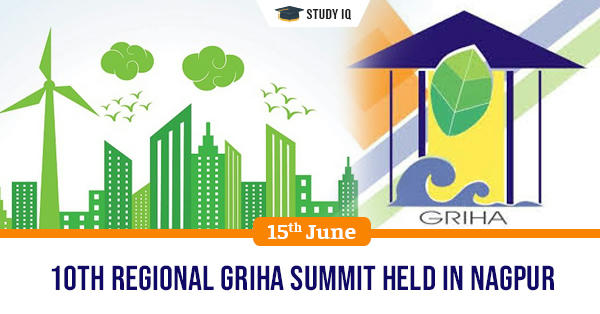 10th Regional GRIHA Summit held in Nagpur
Date: 15 June 2019
Tags: Organizations
The 10th edition of regional Green Rating for Integrated Habitat Assessment (GRIHA) summit was held in Nagpur, Maharashtra. It was organized with help of the Public Works Department (PwD) of Government of Maharashtra. The theme of this year's summit was "Transformation Strategies for Built Environment". This theme was adopted to focus on impact of incorporating sustainability initiatives into functioning public buildings.
Green Rating for Integrated Habitat Assessment (GRIHA)
It is rating tool that helps people assesses the performance of their building against certain nationally acceptable benchmarks. It is given by GRIHA Council, a not-for-profit society jointly setup by The Energy and Resources Institute (TERI) and Unon Ministry of New and Renewable Energy (MNRE) to promote green buildings in India.
GRIHA Council: It is registered society for interaction on scientific and administrative issues related to sustainable habitats in the Indian context. It promotes GRIHA- the National Rating System as a design and evaluation tool for green buildings and habitats.