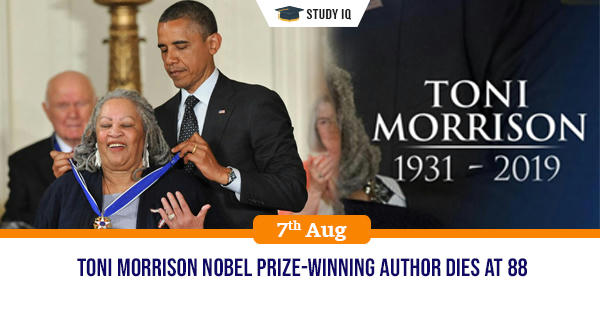 Toni Morrison Nobel Prize-winning author dies at 88
Date: 07 August 2019
Tags: Obituaries
Context: Toni Morrison, the Nobel laureate in literature whose best-selling work explored black identity in America and in particular the often crushing experience of black women through luminous, incantatory prose resembling that of no other writer in English, died on Monday in the Bronx. She was 88.
About:
She was the first African-American woman to win the Nobel Prize in Literature, in 1993
Ms. Morrison was the author of 11 novels as well as children's books and essay collections. Among them were celebrated works like "Song of Solomon," which received the National Book Critics Circle Award in 1977, and "Beloved," which won the Pulitzer Prize in 1988.
In awarding her the Nobel, the Swedish Academy cited her "novels characterized by visionary force and poetic import," through which she "gives life to an essential aspect of American reality."
"The Bluest Eye," was her first novel.