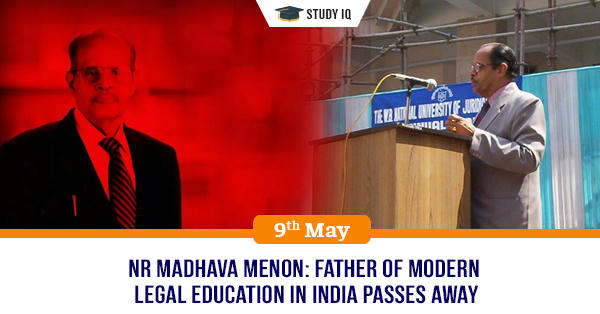 NR Madhava Menon: Father of modern legal education in India passes away
Date: 09 May 2019
Tags: Obituaries
Renowned academician and legal educator Neelakanta Ramakrishna Madhava Menon passed away in Thiruvananthapuram, Kerala. He was 84. He was father of modern legal education in India.
About NR Madhava Menon
He was born on 4 May 1935 in Thiruvananthapuram. He had completed his B.Sc. and B.L. degrees from Kerala University, LL.M. and Ph.D. from Aligarh Muslim University and M.A. Degree from Punjab University. He was enrolled as an Advocate in Kerala High Court in 1956.

Contribution to Judicial Education:

He is known for changing face of Indian legal education by pioneering establishment of National Law Schools.

He is credited with conceptualization of five year integrated LLB course, in place of earlier 3-year course.

He was founder Director of National Law School of India University (NLSIU) and National Judicial Academy (NJA), Bhopal. Supreme Court had sought his services to set up NJA.

He was also founder Vice Chancellor of the West Bengal National University of Juridical Sciences (NUJS).

Books:

He has authored of over dozen books on legal education, legal profession, legal aid, judicial training and administration of justice. The book "Turning Point" is based his life and works.

Awards and Honours:

He was awarded with Padma Shri in 2003 by Government of India for his outstanding public services. Society of Indian Law Firms has instituted annual Best Law Teacher Award in his name to commemorate his services to the legal profession and legal education for more than half a century.