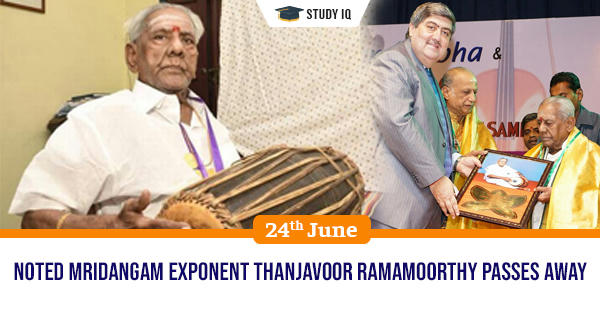 Noted mridangam exponent Thanjavoor Ramamoorthy passes away
Date: 24 June 2019
Tags: Obituaries
Noted mridangam exponent and former top grade staff artist of All India Radio (AIR), Thanjavoor Ramamoorthy passed away in Trichy, Tamilnadu. He was 90. He is best known for having unique distinction of being accompanied by four generations of Carnatic stalwarts starting from violin genius Muringapuri Gopalakrishna Iyer and renowned vocalist ML Vasanthakumari. He was the recipient of Kalaimamani award of Tamilnadu Government.
About Mridangam
It is also known as Tannumai, maddal or maddalam. It is percussion instrument and is the primary rhythmic accompaniment in a Carnatic music ensemble.

It has been depicted as the instrument of choice for Ganesha and Nandi (vehicle and follower of Shiva) in Hindu mythology.

Its body is scooped out of single block of wood. Basically jackfruitwood or redwood are ideal choices of mridangam makers.

It is shaped like barrel and its right head is little smaller than the left. It is one-and-a-half or two feet in length and its diameter is twenty-five to thirty centimetres.

Its right head consists of three concentric layers of the skin and left head consists of only two rings.