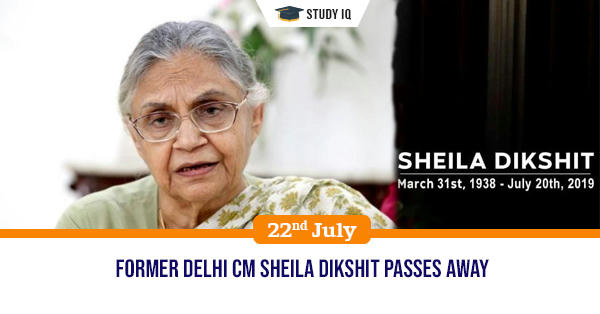 Former Delhi CM Sheila Dikshit passes away
Date: 22 July 2019
Tags: Obituaries
Former Delhi Chief Minister Sheila Dikshit passed away in New Delhi following cardiac arrest. She was 81. She was one of the longest-serving chief ministers of Delhi, as well as longest-serving female chief minister of any Indian state, serving for period of 15 years from 1998 to 2013.
About Sheila Dikshit
She was born on 31 March 1938 in Kapurthala, Punjab. She had graduated with Master of Arts degree in history from the Miranda House at the University of Delhi.
Important Political Positions:

She was handpicked by Rajiv Gandhi to be part of his council of ministers after he became Prime Minister in 1984 after death of his mother Indira Gandhi.

She represented Kannauj parliamentary (Lok Sabha) constituency of Uttar Pradesh during the period between 1984 and 1989.

She also served as Union Minister during 1986–1989, first as minister of state for Parliamentary Affairs and later as minister of state in the Prime Minister's Office (PMO).

She had represented India at United Nations (UN) Commission on Status of Women for five years (from 1984 to 1989).

CM of Delhi:

She had served as chief Minister of Delhi for a period of 15 years from 1998 to 2013. She was one of the longest-serving CM of Delhi (UT) and was the longest-serving female CM of any Indian state/UT.

Governor of Kerala:

She was sworn in as Governor of Kerala in March 2014. However, she resigned after serving for brief time in August 2014.

Contributions to Delhi:

She is known for bringing CNG based cleaner public transport in Delhi (on strict directives of Supreme Court), extending Delhi Metro project and build flyovers in Delhi. However, she was marred by allegations of corruption during the 2010 Common Wealth Games.
Special Note: Former External Affairs Sushma Swaraj of BJP was first women Chief minister of Delhi (in office from 13 October 1998 – 3 December 1998) after its legislative assembly was re-established in the year of 1993, after Constitution (69th Amendment) Act, 1991 which had declared Union Territory of Delhi to be formally known as National Capital Territory of Delhi.