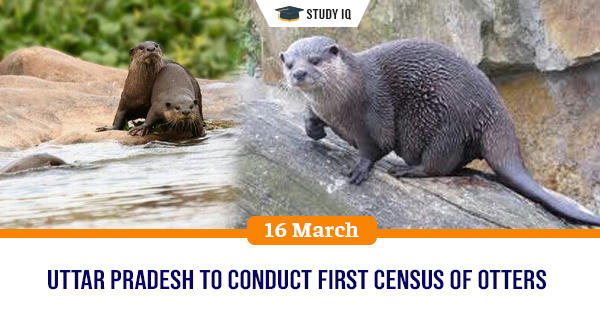 Uttar Pradesh to conduct first census of Otters
Date: 16 March 2019
Tags: National Park and Wildlife Sanctuary, Biodiversity
Uttar Pradesh for the first time has undertaken census of otters in protected areas of the state. The census exercise was started from Pilibhit Tiger Reserve (PTR) and will be completed by end of March 2019 covering all protected areas of state.
Otter
It is important part species (mammal) of forest ecosystem. It spends much of its time in or close to water bodies. It lives on fish.

Its den is known as holt and it is close to water bodies. Its thriving population indicates healthy river ecosystem and water bodies are pollution-free.

Three species of otters are found in India.

It is classified as vulnerable species on IUCN Red List of Threatened Species.
Pilibhit Tiger Reserve (PTR)
It is located in foothills of Himalayas, south of Nepal. It covers area of approximately 800 square kilometres.

It covers parts of Pilibhit, Lakhimpur Kheri and Bahraich districts of Uttar Pradesh. It is rich in water bodies as its considerable area is encircled by Sharda and Ghaghara rivers.

It is home to tigers, leopards, elephants, different species of deer and monkeys and reptiles like snakes, mugger crocodiles and gharials.