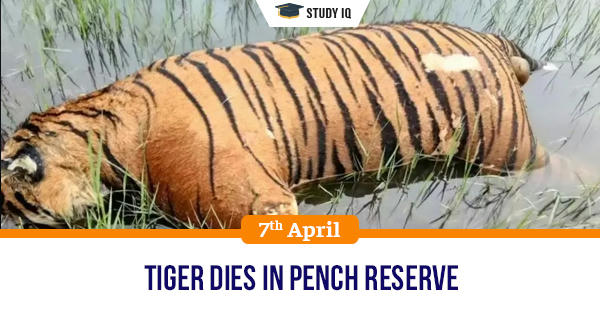 Tiger dies in Pench reserve
Date: 07 April 2020
Tags: National Park and Wildlife Sanctuary
Issue
The death of a 10-year-old ailing male tiger, in the Pench Tiger Reserve (PTR) due to respiratory illness has brought the focus on COVID-19 pandemic, which has been found to infect Tigers.
Background
A report of a confirmed COVID-19 infection in a tiger at the Bronx Zoo, in New York, United States has created doubts in mind of officials regarding the nature of the infection.
Details
Swabs from the throat and nose to test for rhinotracheitis, a viral infection that afflicts cats and causes respiratory illness were collected.

However, it was unlikely to be enough to test for COVID and given the remoteness of the forests and lockdown in effect, would likely degrade and be unsuitable for testing.

The directive to Wildlife Wardens in States and reserves adds that tigers ought to be observed for symptoms consistent with COVID-19 such as respiratory signs of nasal discharge, coughing and laboured breathing and that personnel handling tigers have to be ascertained negative.
Pench Tiger Reserve
Pench Tiger Reserve or Pench National Park is one of the premier tiger reserves of India and the first one to straddle across two states - Madhya Pradesh and Maharashtra.

Pench Tiger Reserve comprises the Indira Priyadarshini Pench National Park, the Pench Mowgli Sanctuary and a buffer.

Pench Tiger reserve recorded highest number of tigers in India. It derives its name from its life line-the River Pench. Inside the park, the river flows from North to South before going on to join the Kanhan River, while splitting the Park into two, and forming the boundary of Seoni District and Chhindwara District districts of Madhya Pradesh.

The general topography of Pench Tiger Reserve is mostly undulating, characterised by small ridges and hills having steep slopes, with a number of seasonal streams and nullahs carving the terrain into many folds and furrows, a result of the folding and upheavals of the past.

The Central Indian Highlands have a tropical monsoonal climate, with a distinct monsoon (July to September), winter (November to February) and summer (April to June).

The mean annual rainfall is around 1400 mm, with the south-west monsoon accounting for most of the rainfall in the region.