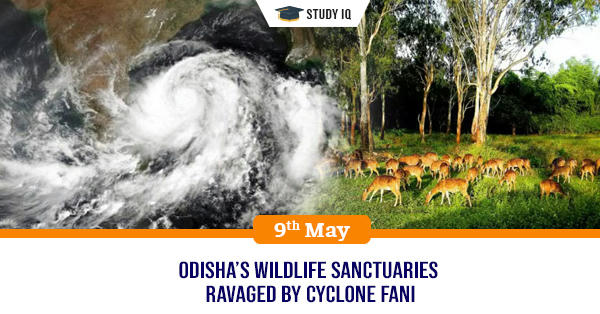 Odisha's wildlife Sanctuaries ravaged by Cyclone Fani
Date: 09 May 2019
Tags: National Park and Wildlife Sanctuary
Severe Cyclone Fani has ravaged key Odisha's wildlife areas such as Balukhand Wildlife Sanctuary, Chandaka Wildlife Sanctuary and Nandankanan Zoological Park. As per estimate, the cyclone has damaged nearly 55 lakh trees, mostly casuarinas. As many as 20% of the trees were uprooted, while rest were found snapped and broken. The devastation has rendered around 400 spotted deer homeless. Loss of habitat also has forced hundreds of monkeys into residential areas in periphery of Bhubaneswar
Balukhand-Konark Wildlife Sanctuary
It is located along the Bay of Bengal coast, between the towns of Puri and Konark. The sanctuary includes coastal dunes, sandy beaches, groves of introduced Casuarina trees planted in 1916-17 and cashew plantations. It is home to herd of Blackbuck. Olive Ridley Sea Turtles nest on the beaches
Nandankanan Zoological Park
It is zoo and botanical garden located in Bhubaneswar. It lies in adjacent to Chandaka-Dampara Wildlife Sanctuary, in the vicinity of Kanjia lake.

It is the first zoo in the world to breed White tiger. It is also the only conservation breeding centre of Indian Pangolins in the world.

It is only zoological park in India to become institutional member of World Association of Zoos and Aquarium (WAZA).

It is the only zoo in India after which express train has been named i.e. "Nandankanan Express" (Puri-New Delhi express).