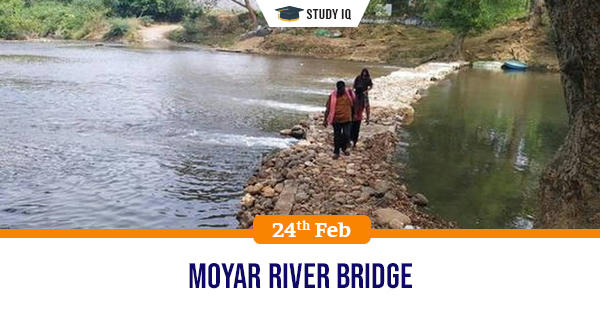 Moyar river bridge
Date: 24 February 2020
Tags: National Park and Wildlife Sanctuary
Issue
An illegally constructed bridge along the Moyar River in the Mudumalai Tiger Reserve (MTR) by a section of residents of a village will have a huge impact on the ecosystem and could lead to a boom in tourism in the region, warn conservationists.
Background
The bridge built with stones across the river has not been approved by the Forest Department.The bridge blocks the natural flow of water along the Moyar, one of the two rivers emptying into the Bhavani Sagar dam.
Details
This bridge will impact the riverine ecosystem, home to otters, marsh crocodiles and a variety of unique species of fish and other aquatic life.

Conservationists say that even the Forest Department cannot grant permission to build a structure without the clearance of the Ministry of Environment and Forest as the area is in a tiger reserve.

The village is still classified as a reserve forest and non-forest activities are completely prohibited.
Moyar river
The Mayar/Moyar River is one of the tributaries of the Bhavani in Tamil Nadu. It forms a natural line of separation between the state of Karnataka and Tamil Nadu and a separation between the forest of Bandipur National Park and the Mudumalai sanctuary to the south.

It is checked by Bhavanisagar Dam on the plains near Satyamangalam, along with the Bhavani River.
Mudumalai National Park
The Mudumalai National Park and Wildlife Sanctuary also a declared tiger reserve, lies on the northwestern side of the Nilgiri Hills (Blue Mountains), in Nilgiri District, in Tamil Nadu.

It shares its boundaries with the states of Karnataka and Kerala. The sanctuary is divided into five ranges – Masinagudi, Thepakadu, Mudumalai, Kargudi and Nellakota.

The protected area is home to several endangered and vulnerable species including Indian elephant, Bengal tiger, gaur and Indian leopard.

There are at least 266 species of birds in the sanctuary, including critically endangered Indian white-rumped vulture and long-billed vulture.

There are three main types of forest in the sanctuary: tropical moist deciduous occur in the western Benne Block, where rainfall is higher than in the other blocks. Tropical dry deciduous forest occurs in the middle and southern tropical dry thorn forests are in the east.

In addition there are patches of tropical semi-evergreen forest in the southwest and western part of Mudumalai.