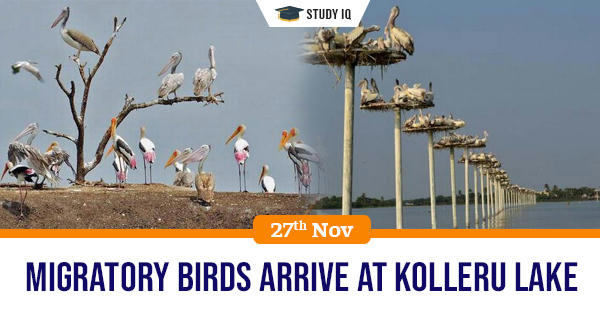 Migratory birds arrive at Kolleru lake
Date: 27 November 2019
Tags: National Park and Wildlife Sanctuary
Issue
The Atapaka Bird Sanctuary on the West Godavari-Krishna district border at Kaikaluru in Kolleru Lake has become the lone safe breeding ground for the two migratory bird species.
Background
Atapaka village is the only location in the lake where bird lovers can have a glimpse of the Painted Storks from close and it's the prime spot for photographers.
Details
Grey Pelicans and Painted Storks have made the Atapaka Sanctuary their winter home for breeding. The Sanctuary, surrounded by an artificial pond, has a good vegetation cover supporting for arranging nests.

The present water level in Kolleru Lake, including Atapaka Sanctuary, is posing a slight challenge for the birds to hunt their prey in the deep waters. However, the water level is expected to start recceding in the coming weeks.

Birds' census in Kolleru Lake is likely to be carried out in early January, documenting the number of bird species that arrive at the lake, and the status of breeding.
Kolleru Bird sanctuary
Kolleru Bird Sanctuary is a sanctuary in Andhra Pradesh, India. It was established in November 1999, under the Wildlife Protection Act of 1972. The sanctuary protects part of the Kolleru Lake wetland, which gained Ramsar Convention for International importance in 2002.