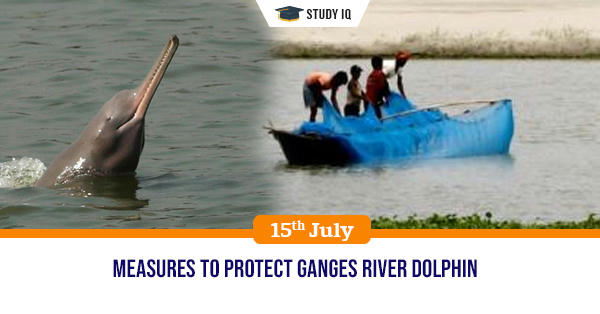 Measures to protect Ganges River Dolphin
Date: 15 July 2019
Tags: National Park and Wildlife Sanctuary, Biodiversity
Union Ministry of Shipping has informed parliament that it is plannig to safeguard population of Ganges River Dolphin along National Waterway-1 stretch in Vikramshila Gangetic Dolphin Sanctuary (VGDS) by restricting speeds of vessels and blowing sirens and horns. It has suggested various mitigation measures based on Comprehensive Environmental and Social lmpact Assessment (ESIA) study on National Waterway-I including on stretches falling within VGDS.
Measures taken by Ministry of Shipping are
Vessel speed restricted to 2.7 knots in VGDS area to reduce the noise generation from propeller.

lf any aquatic mammal/dolphin is spotted, then sirens/signals will be given to push it away dolphins from ship.

Vessels will be fitted with propeller guards and dolphin deflectors to minimise dolphin accidents.

Non-toxic paints will be used for painting vessels.
Vikramshila Gangetic Dolphin Sanctuary (VGDS)
It is the only dolphin sanctuary in the country. Itis located in Bhagalpur District of Bihar. It stretches around 50km from Sultanganj to Kahalganj on River Ganga in Bihar. It was designated in 1991. The population of Ganges dolphin in VGDS is peggedfrom 150 to 200. National Waterway-1 connecting Haldia to Varanasi passes through the Vikramshila Gangetic Dolphin Sanctuary (VGDS). This sanctuary also contains rich diversity of other threatened aquatic wildlife, including gharial (Gavialis gangeticus), Indian smooth-coated otter (Lutrogale perspicillata) and 135 species of waterfowl
Note: Ganges river dolphin is National Aquatic Animal of India. It is official animal of Guwahati city of Assam.