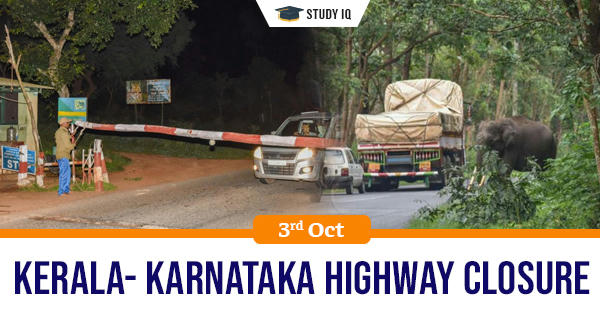 Kerala- Karnataka highway closure
Date: 03 October 2019
Tags: National Park and Wildlife Sanctuary
Issue
Kerala's Wayanad district has witnessed a series of protests against a ban on night traffic on the forest stretch of NH 766, a key highway between Karnataka and Kerala that passes through the Bandipur Tiger Reserve in Karnataka.
Background
Supreme Court had directed to the Ministry of Environment, Forest & Climate Change and the National Highway Authority of India (NHAI) to suggest alternative routes so that NH 766 could be shut down permanently.
Details
The district administration of Chamarajanagar district, Karnataka, banned night traffic on the 19-km forest leg of NH 766, after the project officer of Bandipur Tiger Reserve had prepared a report on the number of animals being hit by vehicles at night.

The report said night traffic would affect behaviour biology such as breeding and parental care of animals, disrupt their life cycle and make them stray to human habitats.
Implications
A blanket ban on traffic would impact the economic development of Wayanad. Besides, the alternative road is 35 km away, which would cost time and money besides raising prices of commodities.
Bandipur Tiger reserve
Bandipur Tiger Reserve is part of interconnected forests that include Mudumalai Wildlife Sanctuary (Tamil Nadu), Wayanad Wildlife Sanctuary (Kerala) and Nagarhole National Park (Karnataka).

A large variety of wildlife including the elephant moves from one stretch to another, cutting the states.

Bandipur is one of the oldest tiger reserves in the country, having been declared as such in 1973 and a national park in 1984. Bandipur has 140 tigers, 1,600 elephants and 25,000 spotted deer.

Bandipur is known for its wildlife and has many types of biomes, but dry deciduous forest is dominant.

The park is flanked by the Kabini river in the north and the Moyar river in the south. The Nugu river runs through the park.

The highest point in the park is on a hill called Himavad Gopalaswamy Betta.