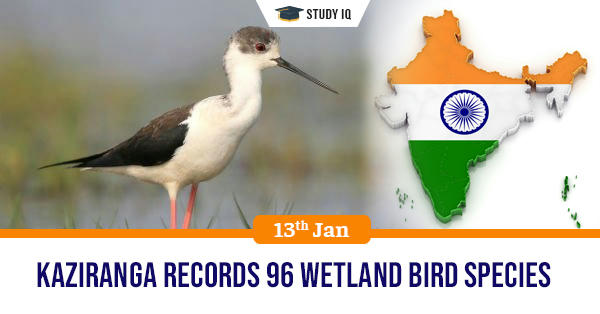 Kaziranga records 96 wetland bird species
Date: 13 January 2020
Tags: National Park and Wildlife Sanctuary
Issue
Kaziranga, home of the world's most one-horned rhinos, has 96 species of wetland birds, which is one of the highest for wildlife preserves in India.
Background
Officials of the Kaziranga National Park and avian specialists conducted the second wetland bird count on January 9-10. The teams counted a total of 19,225 birds belonging to 96 species under 80 families.
Details
With 6,181 individuals, the bar-headed goose led the species count, followed by the common teal at 1,557 and northern pintail at 1,359.

The other species with sizeable numbers include gadwall, common coot, lesser whistling duck, Indian spot-billed duck, little cormorant, ferruginous duck, tufted duck, Eurasian wigeon, Asian openbill, northern lapwing, ruddy shelduck and spot-billed pelican.

Data on avian wealth is important because the wetlands nourish Kaziranga's ecosystem. Increase or decrease in the number of birds is indicative of the park's health.

The 2018 census had yielded 2,413 rhinos and approximately 1,100 elephants. The tiger census of 2014 said Kaziranga had an estimated 103 tigers, the third highest population of the striped cat in India after Jim Corbett National Park (215) in Uttarakhand and Bandipur National Park (120) in Karnataka.

Kaziranga is also home to nine of the 14 species of primates found in the Indian subcontinent.
Kaziranga National Park
Kaziranga National Park is a national park in the Golaghat, Karbi Anglong and Nagaon districts of the state of Assam. The sanctuary, which hosts two-thirds of the world's great one-horned rhinoceroses, is a World Heritage Site.

Kaziranga is a vast expanse of tall elephant grass, marshland, and dense tropical moist broadleaf forests.

The park area is circumscribed by the Brahmaputra River, which forms the northern and eastern boundaries, and the Mora Diphlu, which forms the southern boundary. Other notable rivers within the park are the Diphlu and Mora Dhansiri.