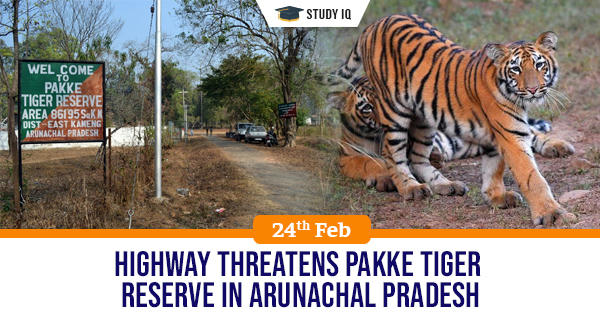 Highway threatens Pakke Tiger Reserve in Arunachal Pradesh
Date: 24 February 2020
Tags: National Park and Wildlife Sanctuary
Issue
A new highway project has been cleared through yet another tiger reserve in Arunachal Pradesh, the Pakke Tiger Reserve.
Background
The government had previously allowed construction of a highway thorugh Namdapha National Park, India's easternmost tiger reserve.
Details
Documents received in response to an RTI inquiry by reveal that the government in the State plans to build a 692.7 km highway through the 862 sq km Pakke Tiger Reserve (PTR) in East Kameng district.

Named the East-West Industrial Corridor, the highway aims to connect Bhairabhunda in West Kameng district and Manmao in Changlang district along Arunachal Pradesh's border with Assam. The project makes no mention of compensation for people likely to be displaced.

The proposed highway had been realigned to bisect PTR after the NHPC turned down the original proposal to let the corridor pass near its hydroelectric project on the Subansiri River.
Pakke Tiger Reserve
Pakke Tiger Reserve, also known as Pakhui Tiger Reserve, is a Project Tiger reserve in the East Kameng district of Arunachal Pradesh in northeastern India.

This Tiger Reserve has won India Biodiversity Award 2016 in the category of 'Conservation of threatened species' for its Hornbill Nest Adoption Programme.

It is bounded by Bhareli or Kameng River in the west and north, and by Pakke River in the east. Towards the south and south-east, the sanctuary adjoins reserve forests and Assam's Nameri National Park.

At least 40 mammal species occur in Pakhui Tiger Reserve (PTR). Three large cats - the Bengal tiger, Indian leopard and clouded leopard share space with two canids – the wild dog and Asiatic jackal.

Among the herbivore species, elephant, barking deer, gaur, and sambar are most commonly encountered. The commonest monkeys are the Rhesus macaque, Assamese macaque and the capped langur.