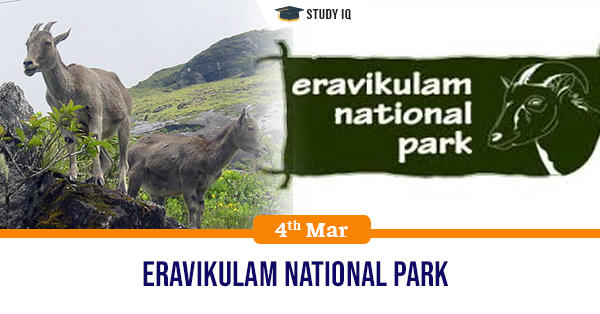 Eravikulam National Park
Date: 04 March 2020
Tags: National Park and Wildlife Sanctuary
Issue
The Eravikulam National Park is one of the last surviving habitat of Nilgiri Tahr, a species of mountainous goat endemic to Nilgiris.
Background
Prior to 1971, the area was managed as a game preserve by the Kanan Devan Hills Produce Company. The government of Kerala resumed control in 1971 (Kannan Devan Hill Produce (Resumption of lands) Act, 1971), and declared the Eravikulam-Rajamala Wildlife Sanctuary in 1975 to protect the habitat of the endangered Nilgiri tahr. It became a National Park in 1978.
Details
Eravikulam National Park is a national park located along the Western Ghats in the Idukki district of Kerala . It is the first national park in Kerala.

The terrain consists of high altitude grasslands interspersed with sholas. Anamudi, 2,695 meters, the highest peak in India south of the Himalayas is inside this park.

Many perennial streams criss-cross the park. They merge to form tributaries of the Periyar river in the west and of the Cauvery River in the east.

Twenty six species of mammals have been recorded in the park including the largest surviving population of Nilgiri tahr, estimated at about 750 individuals.

The other ungulates are lion-tailed macaques, gaur, Indian muntjac and sambar deer. Golden jackal, jungle cat, wild dog, dhole, leopard and tiger are the main predators.

Some little-known animals such as Nilgiri langur, stripe-necked mongoose, Indian porcupine, Nilgiri marten, small clawed otter, ruddy mongoose, and dusky palm squirrel are also found. Elephants make seasonal visits.

132 species of birds have been recorded which include endemics like black-and-orange flycatcher, Nilgiri pipit, Nilgiri wood pigeon, white bellied shortwing, Nilgiri flycatcher and Kerala laughingthrush.

Endemic butterflies confined to the shola-grass land ecosystem like the red disk bushbrown and Palni fourring are among the 101 species in the park.

Three major types of plant communities are found in the Park i.e grasslands, shrublands and forests. The terrain above 2000m is covered primarily by grasslands.