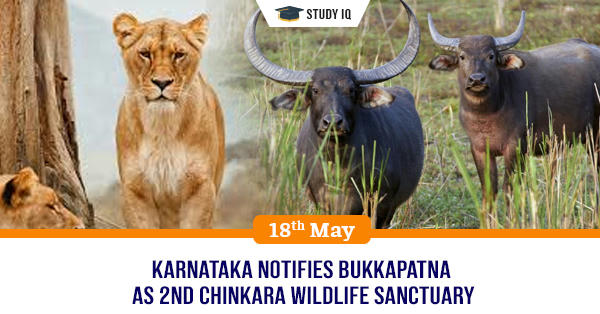 Karnataka notifies Bukkapatna as 2nd Chinkara Wildlife Sanctuary
Date: 18 May 2019
Tags: National Park and Wildlife Sanctuary
Karnataka Government has officially notified Chinkara Wildlife Sanctuary in the state in Bukkapatna, Tumakuru district. The proposal in this regard was approved by the state board for wildlife under chairmanship of Chief Minister HD Kumaraswamy in January 2019 and officially notified recently.
Bukkapatna sanctuary
It will be second protected habitat for rare antelope in the state after Yedehalli in Bagalkot district which was notified in 2016. It is spread over area of 148 sq km and is larger than Yedehalli. It is also southernmost tip of the distribution range of chinkara in India.
About Chinkara
It is also known as Indian gazelle. Its scientific name is Gazella bennettii. It has reddish-buff summer coat with smooth, glossy fur. Both males and females have horns, but are relatively shorter in females. It lives in arid plains and hills, deserts, dry scrub and light forests. It can go without water for long periods and can get sufficient fluids from plants and dew. It is native to Iran, Afghanistan, Pakistan and India. Its 60% of global population is presently found in western Rajasthan. It is categorized as Least Concerned in IUCN Red List.