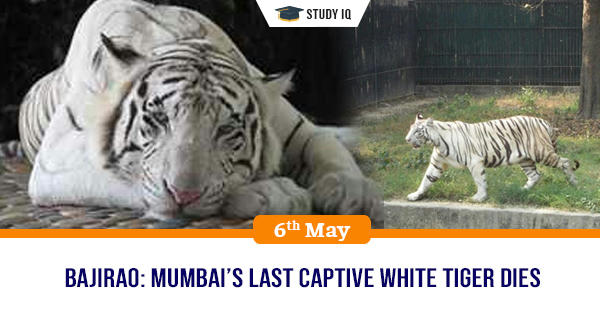 Bajirao: Mumbai's last captive white tiger dies
Date: 06 May 2019
Tags: National Park and Wildlife Sanctuary, Biodiversity
Mumbai's last captive white tiger named Bajirao died recently at Sanjay Gandhi National Park in Borivali (Mumbai suburb), Maharashtra. He was 18 years and died due to old age related issues. He was suffering from chronic ankyloses (fusion of bones leads to abnormal stiffening and immobility of joint) on left shoulder and chronic senile generalised arthritis from past four years. He was born at Sanjay Gandhi National Park in 2001.
About White tigers
They are also called Bleached Tiger and are not separate sub-species of tiger. They have white to almost cream colored fur, pink nose, black/grey/chocolate colored stripes and blue.
They are basically white in colour i.e. they pigmentation variant of Bengal Tiger. Their white colour is due to lack of pheomelanin pigment which gives Bengal tigers their red-yellow or amber colour.
The white tigers are found only among Indian tigers. The last wild white tiger reported in India was captured in forests of Rewa in Madhya Pradesh. They now only can be found in captivity.
Sanjay Gandhi National Park
It is a protected area in Borivali suburb in Mumbai, Maharashtra. It was earlier known as Borivali National Park. It encloses two lakes namely Vihar Lake and Tulsi Lake and has a protected archaeological site, called 'Kanheri Caves' in its centre.

It is part of Western Ghats biodiversity and forms roughly 205 of Mumbai's geographical area. It is home to more than 35 species of mammals, 274 species of birds, 170 species of butterflies, 78 species of reptiles and amphibians and over 1,300 species of plants.

It encloses two lakes namely Tulsi Lake and Vihar Lake.

It is notable as one of the major national parks existing within metropolis limit and is one of the most visited parks in the world. It is spread over are of 103 sq.km in heart of Mumbai city and surrounded by population of 20 million people.

2000 year old complex of some 160 rock-cut caves named Kanheri Caves, which were important Buddhist learning centre are situated within this national park and are protected archeological site.